A dish should be fun to make, and it doesn't always have to take a lot of time. One of the recipes I've always wanted to make is: Jello Shots. So today no Chocolate Chip Chookies or dessert. In this article, we'll take a closer look at how to make Jello Shots.
What is the definition of Jello Shots
The meaning of Jello Shots is:
"A Jello-O shot or jello shot is a mixture of alcohol and gelatin that is drunk as a shot".
About Jello Shots
Everyone knows a shot, it's a small glass with alcohol mixture that you need to drink in one gulp. Jello Shots is the same story only than a combination of gelatin and alcohol. You can use all sorts of liquors. The most common is vodka, but you can also use bacardi, rum or tequila. If the shots don't contain any alcohol the name of the drink is jelly shots or gelatin shots.
Before I talk about the ingredients and how you exactly can make it, a little bit of background of this drink. The exact origin of the drink is unknown. Recipes have already been found in the 14th century. Yet jello only became popular around the 19th century because it was then also available in powder form. This made it a lot easier to make. Also in 1862 a recipe was found explaining how gelatin, a bowl of fruit punch, was combined with strong liquor. For example, there are several people who claim to have come up with the first recipe for the jello shots.
Still, Tom Lehrer is mentioned as a great contributor to the jello shot as we know it today. Tom Lehrer had found a way to get around the alcohol ban on the naval base, the base where he was working at the time. He wanted to go to the Christmas party that was held at the naval base with a friend. It was strictly forbidden to bring alcohol. They came up with taking jello with vodka in cups. Nobody noticed.
Today, the shots are mainly known during spring break, the students vacation in America. The two main reasons for its popularity are the cost and ease of making it. So it is a cheap way for the students to get tipsy.
Jello Shots Recipe Ingredients
To make this fantastic drink you need the following ingredients: Gelatin, cold water, warm water and Vodka. You can find the recipe below. Interested in recipe videos, watch my YouTube Channel!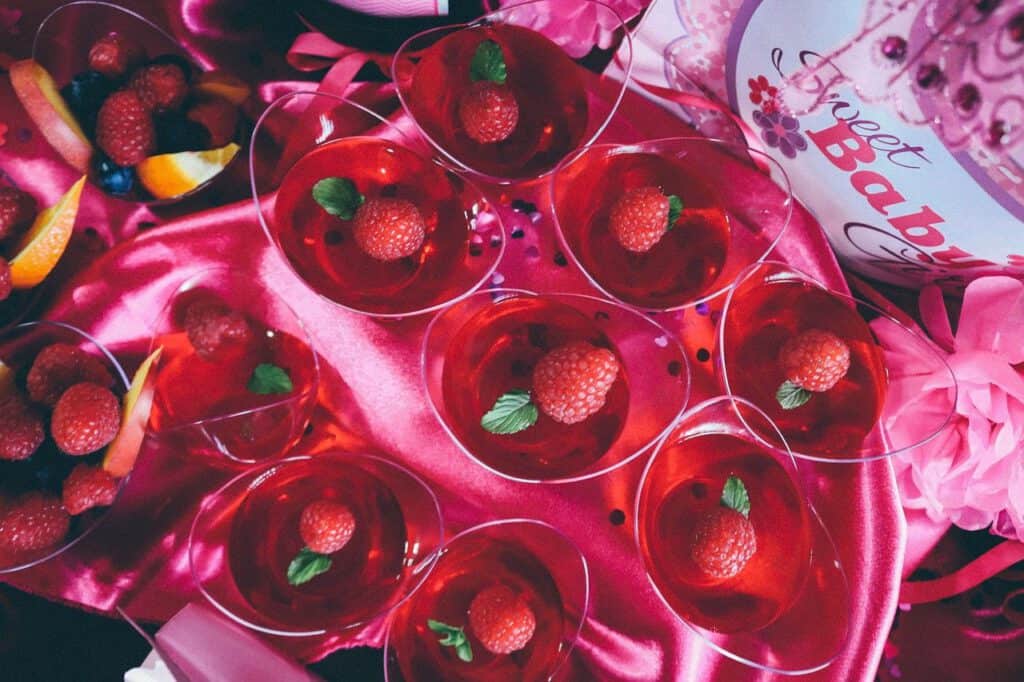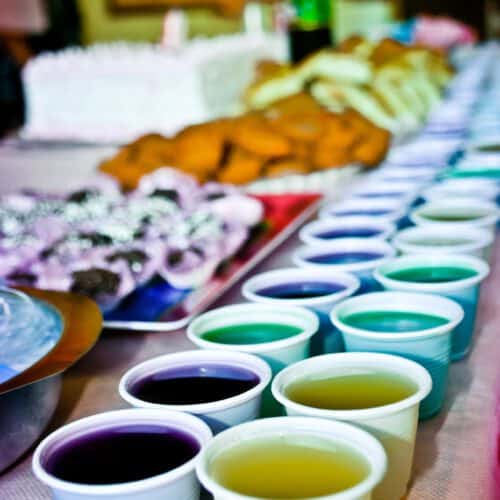 Jello Shots
The best and easiest recipe to make Jello Shots! This recipe is for every Home Chef. You can also make it without alcohol!
Ingredients
180

grams

Gelatin

430

ml

Warm Water

220

ml

Cold Water

250

ml

Vodka
Instructions
The first step is to mix the gelatin powder with the boiling water in a bowl.

Mix everything together and keep on mixing until the gelatin is dissolved.

When the gelatin is dissolved add the cold water and Vodka.

Stir everything together. For 10 seconds.

Pour the liquid in the plastic glasses and put it in the fridge for 5 hours.

After 5 hours take the plastic glasses out and enjoy the drink!
Nutrition
Calories:
118
kcal
Protein:
15
g
Fat:
1
g
Saturated Fat:
1
g
Sodium:
36
mg
Calcium:
10
mg
Iron:
1
mg
FAQ Jello Shots
Below you can find the most frequently asked questions:
What is a Jello Shot?
A Jello-O shot or jello shot is a mixture of alcohol and gelatin that is drunk as a shot.
Which ingredients do I need?
You need the following ingredients: gelatin, warm water, cold water and vodka.
For how many persons is this drink?
The recipe is for 4-6 persons. depending on how much you pour into each cup