As you know I am not a fan of sour sauces. Some things you try to like and after a few times you will like it, but that is simply not possible for sour sauces. A nice fact that your taste changes every 7 years. It may therefore be that you really do not like a dish at this moment and over 7 years you will. So there is still hope for my sour sauces taste. A sauce that I do like is Tzatziki. Delicious with Souvlaki and Chicken Shawarma. Another dish that has a nice sauce is Moussaka. This includes a Béchamel sauce. In this article, we'll take a closer look at how to make Béchamel.
What is the definition of Béchamel Sauce
The meaning of béchamel is:
"Béchamel also known as white sauce, is a white roux with milk and cheese".
History White Sauce
Béchamel sauce therefore has different names. It is also called besciamella, besamel or white sauce. This of course depends on the country where you are at the moment. If you are a resident of the United States, you know the sauce with the name: White Sauce.
The history of the sauce has two theories. The first theory is around the 17th century. The inventor of the sauce is Louis de Béchamel. Maybe the name doesn't mean anything to you, but it was a businessman who held the position of chief steward for King Louis XIV. The second theory is slightly older. This story is based on the year 1533. The recipe was transferred from Italy to France. It got its name from the face masks that women used to wear in Florence. These masks were called baslamo. Yet the name of the dish is not described in The Modern Cook until two hundred years later. The sauce is explained with a recipe for Turbot.
The sauce is nowadays used for Lasagna and for Moussaka, for example. This sauce is also the basis for the Mornay Sauce.
Bechamel Cheddar sauce
Cream sauce
Mustard sauce
Nantua sauce
Parsley sauce
Soubise sauce
If you have a sauce that can be added as a derivative, let me know!
Ingredients for Béchamel
To make this fantastic sauce you need the following ingredients: milk, butter, flour, egg yolks, parmigiano reggiano, salt. To give the dish extra flavor you can use Nutmeg. You can find the recipe below or watch our video!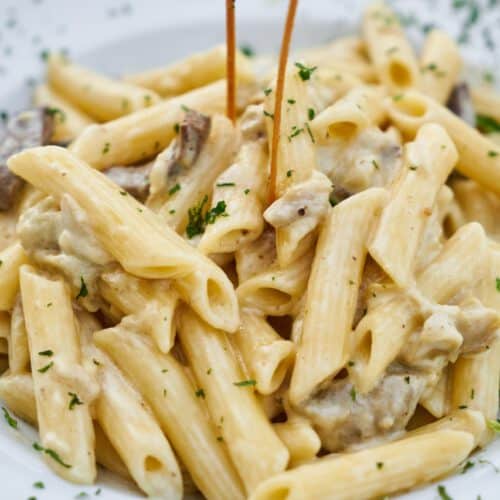 Béchamel sauce
The best Béchamel recipe you can find. Perfect with Lasagna or Moussaka. This easy recipe is for every home chef. Enjoy!
Ingredients
800

ml

Milk

120

grams

Flour

120

grams

Butter

2

Egg Yolks

100

grams

Parmigiano-Reggiano

Salt
Instructions
To make the Béchamel saus you need two pans. Put both pans on the stove on medium heat.

The first pan is for the butter. Add the butter.

The second pan is for the milk to warm up. The milk doesn't need to boil.

When the butter is melted add the flour. Keep on stirring.

When the milk is warm (you will see some steam) add it to the flour. Add the milk slowly and keep stirring. Make sure to add the milk in different portions.

When all the milk is added turn off the gas. Wait for 5 minutes.

The last step is to add the grated cheese, salt, pepper and egg yolks. Stir everything fast together. The sauce is done!
Notes
I use 800 ml milk but you can use up to 900 ml of milk with this recipe. 
Nutrition
Calories:
573
kcal
Carbohydrates:
34
g
Protein:
20
g
Fat:
40
g
Saturated Fat:
24
g
Cholesterol:
199
mg
Sodium:
706
mg
Potassium:
329
mg
Fiber:
1
g
Sugar:
10
g
Vitamin A:
1399
IU
Calcium:
545
mg
Iron:
2
mg
FAQ Béchamel Sauce
Below you can find the most frequently asked questions:
What is Béchamel?
Béchamel also known as white sauce, is a white roux with milk and cheese.
Which ingredients do I need?
You need the following ingredients: Milk, Butter, Flour, Egg Yolks and Cheese.
How much Milk do I need?
It depends on what you like. You can use 800 ml until 900 ml for this recipe. Make sure the milk is warm when add it with the flour.