America, the country often known to Europeans for being big, bigger, biggest. Politics, buildings, but also in the case with food. Fast food chains that are everywhere including Mac Donalds, Kentucky Fried Chicken, Burger King, Wendy's, Subway, Taco Bell and so on. Not normally size drinks but the biggest drinks you have ever seen. Everything is big, like these cookies! Or that is the image I imagine after watching some YouTube videos about America food. Yet America does not only consist of fast food, but they are also known for the BBQ culture. A dish that is often used as a side dish at BBQ is Macaroni and Cheese! In this article, we'll take a closer look at how to make Macaroni and Cheese!  


What is the Definition of Macaroni and Cheese
The meaning of Macaroni and Cheese is:
"Macaroni and Cheese consists of cooked macaroni pasta with cheese to create a sauce mixture".


History
Macaroni and Cheese, also familiar with the name Mac and Cheese, has been around for hundreds of years. For example, the dish was featured in an Italian Cookbook called Linber de Coquina. The difference, however, was that the Italians used Parmesan cheese for their version of the famous Mac and Cheese. This was around the 14th century. This dish was written in an English cookbook whereby the sauce was formed with the melted cheese and butter. Different types had emerged around the 17th century. For example, a béchamel sauce with cheddar cheese was used or cream and butter were added to the dish.
American Mac and Cheese
A hundred years later, the dish was introduced to America. Thomas Jefferson had eaten the dish in Paris and wanted to eat it in America too. At a state dinner, it was on the menu and the rest is history. The dish ended up in many cookbooks including The Virginia Housewife (1824) and Godeys Lady Book (1861). British emigrants subsequently also introduced the dish to Canada. To date, Canada is the country where most Mac and Cheese is eaten. Some chefs have also stated that this could be Canada's national dish. It is even indicated that it will stand for poutine.
Different variations
Over the years, different recipes have emerged for this popular dish. In theory, you could use different pasta types. There must be folds and pockets so that the cheese also adheres well to the pasta. 
The same applies to the use of cheese. As you have read, different types of cheeses were used in the past. The most popular cheese used is Cheddar. In addition, several different cheeses are often combined with each other to ensure a strong cheese flavor. You can also add Gruyere, Parmesan, Gouda, Mozzarella and Pecorino.
Ingredients Mac and Cheese
To make Macaroni and Cheese you need the following ingredients: macaroni, Cheddar Cheese, Gruyere Cheese, Parmesan Cheese, Flour, Butter, Milk, Pepper and Nutmeg.
You can choose if you want one type of cheese or two or three.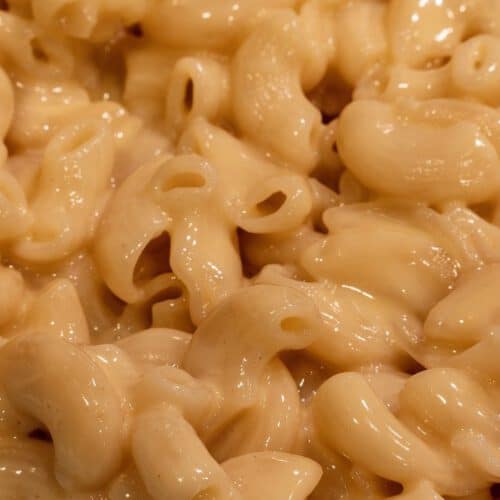 Mac and Cheese
This recipe is for a typical classic American dish: Mac and Cheese. There are a lot of variations. Use the cheese you like the most! Enjoy this amazing dish!
Equipment
Bowl

Cooking Pan

Casserole

Grater
Ingredients
400

grams

Macaroni

(Elbow)

120

grams

Cheddar Cheese

90

grams

Gruyere Cheese

90

grams

Parmesan Cheese

30

grams

Flour

60

grams

Unsalted Butter

1

liter

Milk

2

grams

Pepper

1,5

grams

Nutmeg

1,5

grams

Salt
Instructions
Fill a Cooking pan with Hot water and put it on a medium heat.

When the water starts boiling add the Elbow Macaroni.

Grate the cheese and put it in a bowl. Stir the different cheeses together. Set aside some cheese to sprinkle on top of the macaroni at last.

Take the second Cooking pan and put it on a medium heat. Start melting the butter.

After melting the butter add the flour. Start cooking for 2 minutes.

After two minutes start add the milk slowly and keep stirring well each time. Cook for 5 minutes.

Turn the heat off and add pepper, nutmeg, salt and cheese. Keep stirring so you get a good mixture. Its important to add the cheese slowly.

Drain the pasta and add these to the cheese mixture. Stir well together.

Put the pasta in a casserole (Oven Bowl) add another layer of cheese on top.

Preheat the oven at 180 Celsius.

Put the Oven Bowl in the oven for 20 minutes or when the pasta and cheese has a golden color.

Take the dish out of the oven and you are ready to serve!
Notes
Important to set aside some cheese. When you add the macaroni and cheese in a oven bowl you want some cheese on top!
Nutrition
Serving:
0
g
Calories:
964
kcal
Carbohydrates:
94
g
Protein:
44
g
Fat:
45
g
Saturated Fat:
27
g
Cholesterol:
129
mg
Sodium:
883
mg
Potassium:
621
mg
Fiber:
4
g
Sugar:
16
g
Vitamin A:
1469
IU
Calcium:
1017
mg
Iron:
2
mg
FAQ Mac and Cheese
Below you can find the most frequently asked questions:
What is Mac and Cheese?
The name says it all: Macaroni (Elbows) with a Cheese sauce. 
Which Cheese do I need?
You can use different types of Cheese. The most popular ones are Cheddar, Gruyere and Parmesan.