Duck is typically a dish that you eat at Christmas. At least I have that thought. In an earlier article I already described how to make an orange sauce and how to make duck a l'orange. A great sauce in combination with the duck fantastic. This dish in my opinion even better! A nice piece of duck with a nice Honey Glaze. In this article, we'll take a closer look How to make Honey Glazed Duck Breast.
What is the definition of Honey Glazed Duck Breast
The meaning of Honey Glazed Duck Breast is:
"The Honey Glazed Duck Breast consist of a roasted duck with a Honey sauce".
About Honey Glazed Duck
You may have heard of the dish Honey Glazed Duck, maybe you think it's a Asian recipe but it isn't.
I had arranged the duck through my uncle who works at a poulterer. He indicated that the duck should have a crispy outer layer and tender meat on the inside. You quickly bake it for 6 minutes on the skin side and 4 minutes on the other side. The duck is ready in 10 minutes! It's super easy to prepare.
I made the sauce from five ingredients. I wanted a sweet sauce that goes perfectly with the crispy layer and the meat of the duck. The ingredients I used are brandy, star anise, cinnamon, coriander, honey and unsalted butter. I have combined the ingredients by feeling. The numbers are given in the recipe below. After tasting I made some adjustments here and there, which ultimately resulted in a super rich sauce. A nice sauce that is easy to make and really makes a perfect addition. Below again the ingredients that I have used.
Honey Glazed Duck Recipe Ingredients
To make this fantastic dish you need the following ingredients: duck breast, honey, brandy, cinnamon, star anise, coriander and unsalted butter. You can find the recipe below or watch the video on YouTube!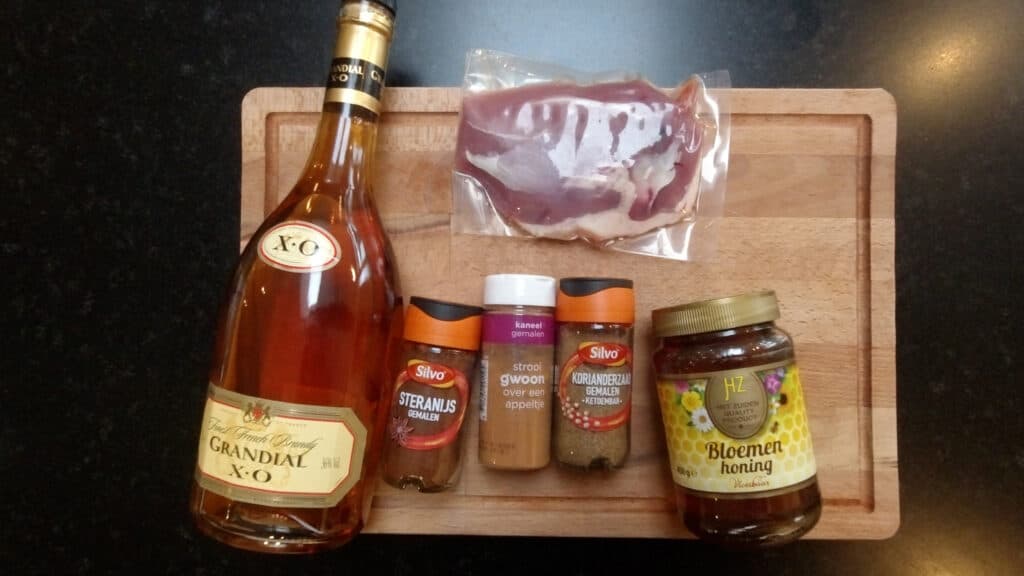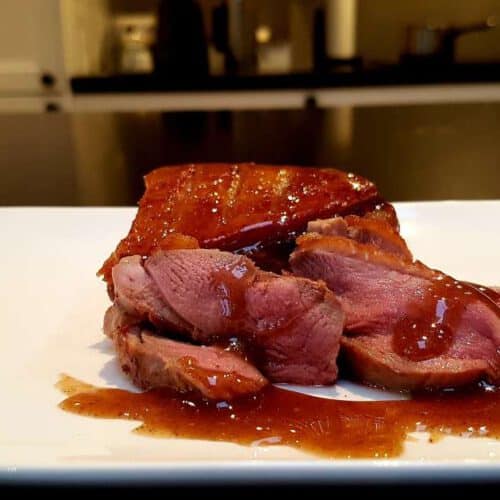 Honey Glazed Duck Breast
The best Duck Breast with Honey Glazed recipe you can find. This recipe is for every home chef. Enjoy!
Ingredients
200

grams

Duck Breast

15

grams

Butter

30

ml

Honey

27

ml

Brandy

2

grams

Coriander seeds

2

grams

Cinnamon

2

grams

Star Anise
Instructions
First step is to make the Honey Glaze. Add 30 grams of Honey and 27 ml of Brandy in a saucepan on medium heat.

Add 2 grams of coriander seeds, 2 grams of cinnamon and 2 grams anise to the glaze. Stir everything together.

Add 15 grams of butter to the Honey Glaze. When the butter is melted the Honey Glaze is ready.

Then we going to prepare the duck. Make 5 incisions into the ducks skin.

To bake the perfect duck breast use a baking pan with little bit of olive oil on medium heat. Bake the perfect duck breast 6 minutes skin side and 4 minutes the other side.

Take the Duck of the heat, glaze it and let it rest for 5 minutes.

After 5 minutes slice the duck breast.

Add the honey glaze over the sliced duck breast on your plate. You are ready to eat!
Video
Nutrition
Calories:
525
kcal
Carbohydrates:
28
g
Protein:
41
g
Fat:
21
g
Saturated Fat:
10
g
Cholesterol:
186
mg
Sodium:
224
mg
Potassium:
536
mg
Fiber:
2
g
Sugar:
25
g
Vitamin A:
481
IU
Vitamin C:
12
mg
Calcium:
47
mg
Iron:
10
mg

FAQ Honey Glazed Duck Breast
Below you can find the most frequently asked questions:
What is a Honey Glaze?
It's a sauce that consist of Honey. To make the sauce I used this in combination with brandy, cinnamon, star anise, coriander and melted butter. The sauce is sweet, warm en rich of flavor.
Which ingredients do I need?
You need the following ingredients: duck breast, honey, brandy, cinnamon, star anise, coriander and unsalted butter.
For how many persons is this dish?
The recipe is for 1 person.