When you start cooking and baking, buy a knife set on a cutting block and a few good pans. Perhaps you have started baking and have also purchased materials for this. Over time you start to learn more about cooking and baking and you also notice that there are many possibilities. You may have a baking pan that has a non-stick coating or you may use the silicone option. Another option you have is Stoneware cooking. In this knowledge base article I will discuss how you can cook, season and clean with stoneware.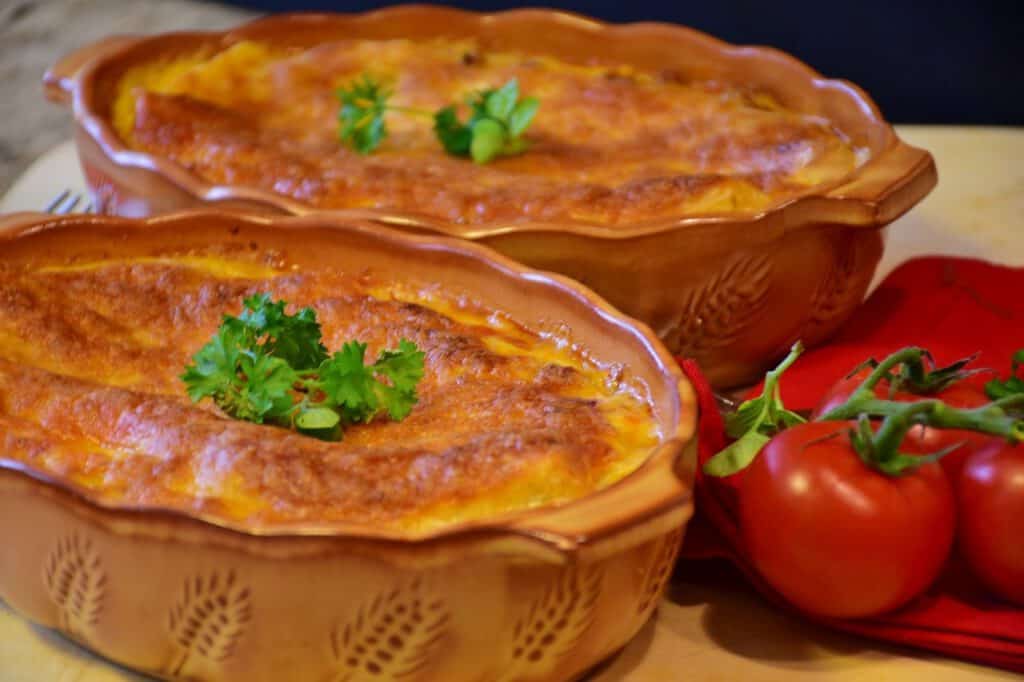 What is Stoneware
Stoneware is earthenware or ceramic that is baked at a high temperature. When you are looking for new items for your kitchen, including plates, pans and baking utensils, stoneware is an option. You will notice that it is thicker than porcelain. Stoneware is originally from China, from the Shang Dynasty. During that time, different shapes and colors were developed based on the time in which the people lived. It was then spread all over the world from China. It was exported to Europe in the 17th century. These were mainly the teapots.
Still, teapots aren't the only options you have. You can use it for cooking and baking. If you want to make food that must be cooked slowly or evenly, then stoneware is a good choice. You can think of cakes, bread, but also meat that you have to cook for a long time.
Advantages
The products have a number of advantages. Below I have listed a number of advantages:
Safe for baking / cooking
Free from chemicals
Lifespan
Sustainable
The material is resistant to high temperatures. So you can use it in the oven. In addition, it is very easy to maintain and they also last a very long time. You no longer need non-stick sprays. The surface is adhesive resistant.
Disadvantages
Just like advantages, there are also a number of disadvantages if you choose this option. These drawbacks are:
Heavy
Difficult to store when having a small space
Can cause scratches
The three main drawbacks are listed above. If you have little storage space, that can be a disadvantage if you choose this option. The products are heavy and usually large. In addition, it may be that there are rough areas on the product. When you put it on the counter, scratches and damage can occur. Always make sure to put something on the counter when you put the pottery on it. This prevents a lot of frustration when you see a scratch on your natural stone counter top.
How to cook with Stoneware
As you can already read about the benefits, baking and cooking with stoneware is very easy. It is suitable for use in the oven at high temperatures. Because it is stoneware, the heat is well distributed and also retained for a longer period. So you don't have to worry that the food will get cold quickly.
When you start using the stoneware, it is advisable to first make a dish that is rich in fat. Another alternative is to rub it with vegetable oil. This creates the non-stick coating. Example dishes are:
Sausages
French fries
Hamburgers
Fish
Bacon
There are more examples of dishes that are oily. If you wondering if you can put the stoneware in the freezer or refrigerator the answer is: Yes! Make sure that the bowl has cooled down completely. If you don't do this, cracks may appear. And if there are no cracks, it can even happen that the product breaks. After all, you want to avoid this, so make sure it is completely cool.
When you use the stone often you will notice that the color will change. It can get darker. This does not mean that it will break, but that the stoneware is getting better! It is very important that you don't get the idea that you have to clean this. When you are going to clean this, you can start again to get the cooking surface right. The blacker it gets, the better!
How to Season Stoneware
It is already partially told in the section above. Below we go into more detail in how to season stoneware. Most importantly, you start building up the non-stick coating. Below are the steps:
Clean the stoneware
Dry
Add oil
Remove the excess oil
Place the pan in the oven
Let the pan cool down
To make the best possible start, you will have to clean the pan at the beginning. There may be a thin coating layer on the pan. Of course you don't want this in your food when you are going to make a dish. To clean the pan, hold it under lukewarm water. Then you dry the pan.
To start building the non-stick coating, put a little oil in the bowl. It is important that you apply this little bit of oil to the places where the food comes. Then you take a cotton cloth and remove the excess oil.
After the pan has been coated with oil and the remainder has been removed, it is time to place the pan in the oven. Place it in a preheated 200 degree oven for 30 minutes. After the 30 minutes, take it out and let it cool. The next dish you are going to make in the pan should also be greasy. I have already mentioned examples above!
How to clean Stoneware
In this knowledge base article we have already talked about how to use the stoneware, seasoning and finally we will now discuss how to clean it. It's quite simple. When you have used the pan, it is important that you let it cool completely to room temperature. If there are any leftovers that you want to remove, you can use a nylon kitchen brush. Then place the stoneware under the hot tap. Please do not use washing up liquid. This is not necessary.
Another option to clean the stoneware is to use baking soda (3 tablespoons) and water. You rub it over the stones with your nylon brush and let it sit for 25 minutes. Then rinse it with warm water and dry it with a cotton cloth.
I repeat again because it is very important, do not use detergent. Warm water will be enough! If you have any questions about Stoneware Cooking, seasoning or cleaning the stoneware, let me know!
FAQ Cook, Season and Clean Stoneware
Below you can find the most frequently asked questions:
What is a Stoneware?
Stoneware is earthenware or ceramic that is baked at a high temperature. You can use it for cooking and baking.
What are the advantages?
The advantages of Stoneware Cooking are: safe for baking and cooking, free from chemicals, good lifespan and sustainable.
What are the disadvantages?
The disadvantages of Stoneware Cooking are: the stoneware is heavy. When you have a small space it can be difficult to store it. The last disadvantages is that because of the surface it can cause scratches on your counter top.