The world has different cuisines, with each country having its own specialty. This also includes its own spices and flavors. One of these cuisines that has a lot of distinct spice is the Middle East. An example of this is Saffron. You use saffron to add flavor to food. An example is saffron rice. A particularly pricey spice, but really a typical example of Middle Eastern Cuisine. Another example is Falafel. Falafel is incredibly popular worldwide, but has its origins in the Middle East. In this article, we'll take a closer look at how to make falafel.


What is the Definition of Falafel
The meaning of Falafel is:
"Falafel is a typical Middle Eastern dish that has smashed chickpeas or beans balls. This balls are fried.


What is Falafel
As described above, it is therefore a dish consisting of chickpeas or broad beans. The peas and / or broad beans are mashed. Subsequently, balls are made and fried. When you go to a kebab shop, you have probably seen this dish on the menu. It can be seen as a vegetarian dish. Before I go into this further, I first want to share the background of this dish. Falafel is a word that comes from the Arabic word Falafil. Derived from the word pilpal, which roughly means small round thing / peppercorn. The dish is from the Middle East, but the exact place remains unknown.
There are different approaches on the internet. One story shows that it's first eaten in Egypt as a meat substitute. The dish went to different places like the Ottoman Empire. In the Ottoman Empire the beans were replaced by chickpeas. The origin of this great dish has even turned into a political discussion between the Arabs and the Israelis. It is therefore not surprising that it is considered the national dish by three countries. These countries are Israel, Palestine and Egypt. Falafel sandwiches are available in many kebab shops, including the Middle East. It's a type of fastfood: a quick bite you can eat on the go. This dish has also gained a lot of popularity among vegans and vegetarians. The dish is an alternative to meat and contains a source of protein.
It's not difficult to make, it only takes time!
Ingredients
To make the Falafel you need the following ingredients: chickpeas or beans, onion, parsley, garlic, salt, cumin, flour, coriander, baking soda, pepper and oil.

It's your choice to use chickpeas or beans. In the recipe below we use chickpeas. You can also use different types of pepper and cardamom to give the falafel more flavor.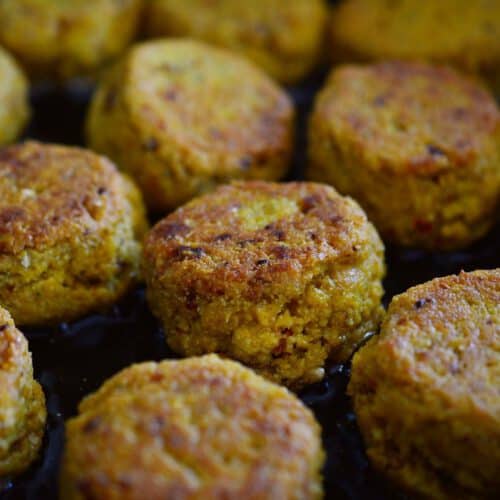 Falafel
Learn how to make this Middle East recipe: Falafel. You need a lot of spices and it takes some time, but its definitely worth it! Enjoy!
Equipment
Food Processor

Bowl

Cooking Pan
Ingredients
450

grams

Chickpeas

(Dry)

1

Onion

4

gloves

Garlic

30

grams

Flour

20

grams

Coriander

21

grams

Parsley

10

grams

Cumin

6

grams

Salt

2

grams

Baking Soda

2

grams

Pepper

Vegetable Oil
Instructions
The first step is to place the chickpeas in a bowl filled with water. Add the baking soda and stir the mixture together. Put the bowl in the refrigerator for 18 hours. The chickpeas needs to feel tender, that's the signal for step 2.

Take a towel and make sure the chickpeas are dry. Add them in your food processor. Start mixing. After mixing for a couple of seconds you can add the dry ingredients: onion, parsley, garlic, salt, cumin, flour, coriander and pepper. If you like to add other spices that's up to you!

When the ingredients are well combined you are done. Don't over process. If you think the texture is to rough, just pulse a couple of times extra.

Put the mixture in a bowl with plastic on top and place the bowl in the fridge for at least 1 hour.

Take a large Cooking Pan and fill it with oil. Heat the pan on medium heat to reach between 180 and 190 Celsius.

Its time to make the balls. Take two tablespoons of mixture and start rolling in your hands. The balls needs to hold together. If this isn't the case you can add extra flour or an egg.

If the oil is on the right temperature you can add the falafel balls. Cook them until brown on each side. This will take 3 minutes a side. If the balls are brown before the 3 minutes, you can also turn them!

When the falafel balls are golden brown take them out and put them on a paper towel for 2 minutes. After this you are ready to serve the falafel!
Notes
It's all about the mixture that goes out of the food processor. If you notice that the balls don't hold together. You can add the flour or an egg. Another option is to put it back in the food processor for a couple of pulses. To give it a more smooth texture. Watch out it should absolutely not have a hummus texture.
If the oil is hot you can test it with one ball. Fried the ball for a couple of minutes. Take the ball out on a paper towel and taste it. Is the taste and texture good you can add the rest! 
One of the most important step is soaking. Make sure they soak for at least 18 hours. I highly recommend to go up to 24 hours. They need to double in size at least and feel tender!
Nutrition
Calories:
238
kcal
Carbohydrates:
41
g
Protein:
12
g
Fat:
4
g
Saturated Fat:
1
g
Sodium:
737
mg
Potassium:
467
mg
Fiber:
10
g
Sugar:
7
g
Vitamin A:
842
IU
Vitamin C:
12
mg
Calcium:
95
mg
Iron:
6
mg
FAQ Falafel
Below you can find the most frequently asked questions:
What is a Falafel?
Falafel is a typical Middle Eastern dish that has smashed chickpeas or beans balls. This balls are fried.
Do I need to use Chickpeas or Beans?
It all depends on what you want. The recipe is based on Chickpeas.