Scrambled eggs, also known as stir-fried eggs or in French œufs brouillés. You often see this recipe at restaurants to eat for breakfast. I also have a strong preference for scrambled eggs at home in the morning. I have to admit that the way of making scrambled eggs differs greatly. Everyone has their own way of doing this. In this article we describe how to make fluffy scrambled eggs.


What is the definition of Scrambled Eggs
The meaning of Scrambled Eggs is:
"an egg mixture with pepper, salt and milk baked in a frying pan that is whisked / stirred together during baking"


Different types of Scrambled Eggs
Just like many other things, making scrambled eggs is really a taste thing. Scrambled eggs therefore consist of whisked eggs with milk, pepper and salt. You can also add butter or oil to the mixture or add flavor with other spices. You also have the following options:
Scrambled eggs with cheese or ham or salmon
In addition to a frying pan, you can also choose to make the eggs in an au bain-marie way or with a microwave. I prefer the frying pan myself.
Of course I believe my scrambled eggs are the best. It is my mother and grandmother's recipe that has been in the family for ages. Making this recipe can't go wrong. You try it and notice for yourself whether you want to add a little more or less of certain ingredients. I personally don't like it when the scrambled eggs are too watery. I want it to have a slightly firmer shape. This is how you make the best fluffy scrambled eggs for yourself.


Ingredients for Scrambled Eggs
To make Scrambled Eggs you need four ingredients. These ingredients are: eggs, pepper, salt, coffee milk and my secret ingredient Magi. Below we will explain the ingredients.
Eggs: You can use all sorts of eggs. In my opinion it doesn't matter what for kind of eggs you have at home. You can keep the eggs at room temperature or in the fridge.
Milk: If you want more flavor to your Scrambled Eggs I recommend to use normal milk.
Salt / Peper: Use the normal salt and peper.
Maggi: Maggi is a flavor enhancer with the following ingredients: Hydrolyzed vegetable proteins (water, wheat proteins, salt), water, aroma, flavor enhancers (monosodium glutamate, disodium inosinate), salt, sugar.
Butter: Use the butter for the cooking pan. It ensures that the egg from burning.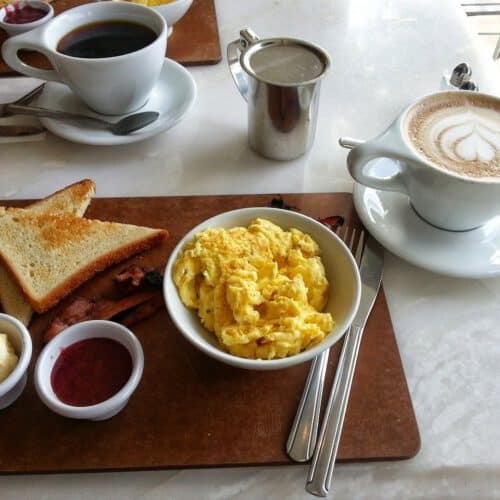 Fluffy Scrambled Eggs
Fluffy Scrambled Eggs, the perfect breakfast for the weekends! There are different options to make them. The recipe is my own version of the Scrambled Eggs. I recommend to use two eggs for each person. If you have a lot of hunger in the morning you can add extra egg.
Equipment
Baking Pan

Whisk

Bowl

Spatula
Ingredients
2

Eggs

25

ml

Milk

1

pinch

Salt

1

pinch

Pepper

1

tbsp

Maggi

Butter
Instructions
Put the butter in the cooking pan and set the temperature on medium heat.

Take a bowl and break your 2 eggs in the bowl Add 25 ml milk and 1 tablespoon of maggi in the bowl. Use a pinch of salt and pepper.

After all the ingredients in the bowl it's time to start whisking. Take a whisk and start mixing the ingredients for 60 seconds. Make sure everything is mixed together. When you see little air bubbles you know the mixing is good!

Start pouring the eggs in the pan on medium heat. Use a wooden or sillicone spatula. It won't damage the pan. Start with pulling the cooked eggs from the outside to the center of the pan.

Keep on moving the spatula around the edges of the pan. The uncooked eggs will touch the medium heat surface of the pan. The cooked eggs will gather in the center.

When you don't see any uncooked eggs start turning the eggs and start breaking the scramble in small pieces. The next couple of seconds is a matter of taste. Do you like your scrambled eggs a little bit "wet", you can turn down the heat and keep on turning the eggs. If you want your scrambled eggs more cooked you will keep on the heat.

Put the Scrambled Eggs on a plate. After tasting you can decide to add some extra pepper.
Video
Nutrition
Calories:
126
kcal
Carbohydrates:
1
g
Protein:
11
g
Fat:
8
g
Saturated Fat:
3
g
Cholesterol:
327
mg
Sodium:
164
mg
Potassium:
121
mg
Sugar:
1
g
Vitamin A:
475
IU
Calcium:
49
mg
Iron:
2
mg
FAQ Scrambled Eggs
Below you can find the most frequently asked questions about Scrambled Eggs:
What are Scrambled Eggs?
an egg mixture with pepper, salt and milk baked in a frying pan that is whisked / stirred together during baking.
How many eggs are needed?
I recommend to use 2 eggs for each person.
How long does it take to make?
It will take you around the 8 to 10 minutes.