The world of snacks. A snack does not have to be unhealthy even if it has the name. For me, a snack is an easy to make recipe that anyone can actually do. A snack consists often of a few ingredients. When your preparation is done, it is basically putting the product in the oven or frying it. Examples of previous snacks that I have covered are Saganaki and Chocolate Chip Cookies. A new recipe will make the list today: Churros. In this article, we'll take a closer look at how to make Churros.
What is the definition of Churros
The meaning of Churros is:
"Churros or Churro is a fried-dough pastry. This dish is originally from Spain and Portugal. The dough can be long and thin or knotted together. They have the name porras and jeringos. The snack you get together with hot chocolate or dulche de leche".
History Churro
You have probably come across this snack in European city. Every recognizes a Churro and and is often sold to tourists on city trips. Everyone recognizes a churro. It can therefore be elongated or knotted together. There are only theories about the exact origin of the snack. Unfortunately I owe you the real answer. I'm sorry.
Because even though it is known as a dish from Portugal and Spain, it is suggested that the Portuguese brought it from China. There are dishes in the South of China that are very similar to this snack. Of course we are talking about youtiao.
The second theory also makes sense. This story is about Spanish shepherds. Spain has a mountainous landscape and the shepherds have to keep their flock together there. After hard work, they deserve a meal that is easy to prepare and to bake. Guess what: the Churro dough was easy to prepare and make. The shepherds baked the dough over an open fire.
Frying dough has been around for thousands of years. For example, dough was already fried in ancient Greece. And today it has become even more popular! It's time to tell the ingredients of this amazing snack.
Ingredients for Churros
To make this fantastic snack you need the following ingredients: sugar, unsalted butter, flour, eggs, dark chocolate, milk and corn starch. To give the snack a dipping sauce I used Dark Chocolate. You can find the recipe below or watch our video!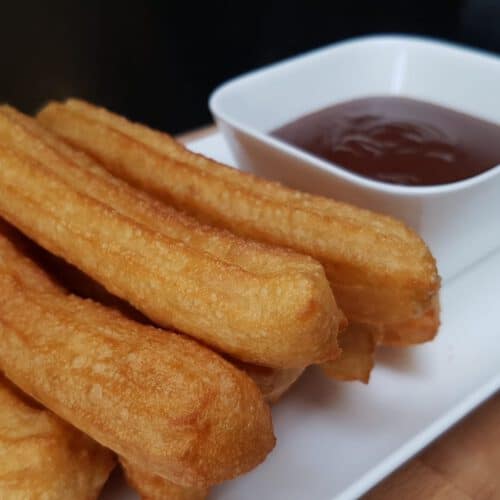 Churros
The best Churros recipe you can find with a perfect Dark Chocolate dipping sauce. This easy recipe is for every home chef. Enjoy!
Ingredients
162

ml

Water

45

grams

Sugar

40

grams

Unsalted Butter

110

grams

All Purpose Flour

2

Eggs

65

grams

Dark chocolate

120

ml

Milk

5

grams

Corn Starch
Instructions
First you will make the dough. You need a saucepan filled with 15 grams of sugar, 40 grams of unsalted butter and 150 ml of water. Put on medium heat.

When the butter is melted add 110 grams of all purpose flour.

Mix everything together till you get a solid mass.

Add the dough to a mixing bowl and let it rest for 10 minutes.

After 10 minutes add the first egg. Mix the egg through the dough. When the dough is solid with the first egg add another egg. Mix everything till it becomes solid again

Add the dough to your piping bag and lay down three sheets of baking paper. Create 3 churros on one single piece of baking paper (in total 9 Churros)

Fill a pan with vegetable oil and turn on medium heat.

Add the Churros and fry until golden brown on both sides.

For the Chocolate sauce add 25 grams of sugar, 12 ml of water, 65 grams of dark chocolate and 120 ml of milk to a pan. Stir everything over medium heat.

Add 5 grams of cornstarch dissolved in a little bit of water to the pan. This thickens the Chocolate Sauce.

Pour the chocolate sauce in a tray and you are ready to eat your homemade Churros with chocolate sauce.
Video
Notes
To make the Churros easy to fry, I leave them on the baking paper. I gently slide the baking paper into the pan. The moment the Churros come off the baking paper, I remove the baking paper. The Churros are too weak to immediately put in the pan one by one. This way you prevent your Churros from breaking.
Nutrition
Calories:
367
kcal
Carbohydrates:
42
g
Protein:
8
g
Fat:
18
g
Saturated Fat:
10
g
Cholesterol:
107
mg
Sodium:
51
mg
Potassium:
216
mg
Fiber:
3
g
Sugar:
17
g
Vitamin A:
417
IU
Calcium:
62
mg
Iron:
4
mg
FAQ Churros
Below you can find the most frequently asked questions:
What is Churros?
Churros or Churro is a fried-dough pastry. It's a typical snack from Portugal and Spain.
Which ingredients do I need?
You need the following ingredients: sugar, unsalted butter, flour, eggs, dark chocolate, milk and corn starch.
How long does it need rest?
I recommend a minimum of 10 minutes.