Just like Italian cuisine, the Greek cuisine also has a lot to offer. It is therefore no coincidence that both countries are located on the Mediterranean Sea. When I think of Greece, I think of a beautiful blue coastline. The most beautiful islands, nice weather and good food. Some typical dishes are Loukoumades and Saganaki. In this article, we'll take a closer look at another typical Greek dish: Souvlaki.
What is the definition of Souvlaki
The meaning of Souvlaki is:
"Souvlaki is a Greece Dish with small pieces of meat on a skewer. This meat can be pork, lamb and chicken. The skewer can also contain vegetables".
History Souvlaki
Souvlaki can have different names. These names can be plural souvlakia or kalamaki. The name kalamaki is mainly used for the dish in the south of Greece and Athens. In the North it has the name as I know it myself. This dish has a rich history. In Greece it is eaten for thousand of years. In that time it was pretty normal to skewer and cook your food.
Greece has a rich history and during excavations they found all kinds of material for this, such as in Satorini. In Santorini, the material came from 2000 BC. These excavations have revealed that it was a delicacy at the time. They have found evidence for kitchen materials for roasting meat on a spit. Its even mentioned in the works of Aristotle and Aristophanes. One a philosopher and science, the other a well-known poet.
Popular fastfood in Greece
Despite the many excavations, the souvlaki as we know it was only described much later. This was done in the year 1850 by a Frenchman. At this moment souvlaki is a fast food and can be seen as a main dish. When I hear the name Souvlaki I wonder where the inspiration came from. Excavations have shown that it was done thousands of years ago in Greece, but it is very similar to shish kebab. This is a dish from Turkey. A thought of my own. I have no answer to this either. We will probably never know exactly.
To briefly summarize a Souvlaki: a skewer filled with meat. Sometimes the meat can contain vegetables. Have you ever been to a Greek restaurant? You have seen this on the menu. There are several options for serving this dish. One of the options is with rice, potatoes or bread. By bread I mean of course Pita Bread. Naturally, the meat comes with a number of sauces. It is high time to tell you my amazing recipe. Read on quick.
Ingredients for Chicken Souvlaki
To make this fantastic dish you need the following ingredients: chicken breasts, salt, pepper, lemon, garlic and oregano. You can find the recipe below or watch our video! To give the dish some decoration you need the following things: sauce (can be tzatziki) and a salad. You can make the salad with lettuce, red onion and tomato, like I mentioned above, you can eat it with pita bread, potatoes or rice. It's your choice!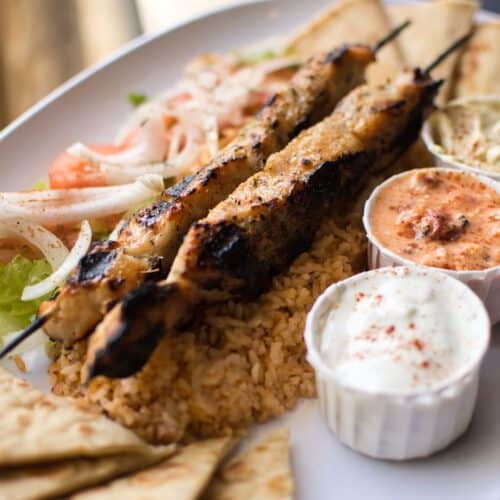 Souvlaki
The best Souvlaki recipe you can find! Meat on a skewer. This easy recipe is for every home chef. Enjoy!
Equipment
Grill Pan

Skewer

Knife

Bowl

Bread Grate
Ingredients
1

kg

Chicken Breasts

Salt

Pepper

30

ml

Lemon Juice

22

gram

Oregano

(Dried)

1

Glove

Garlic
Instructions
The first thing is to cut the chicken breasts in to pieces. Try to make the same size pieces.

After cutting the chicken its time to give the chicken some flavor. Take a bowl and put the chicken in. Add salt, pepper, oregano, lemon juice, garlic and olive oil in the bowl. Mix everything together.

Add a plastic wrap on top of the bowl and place it in the fridge for 1-2 hours. In this time the marinate can be soaked up in the meat.

Take the chicken out of the fridge and grab the skewers. Make sure the skewers fit in your grill pan. Take a bowl and fill the bowl with water. Place the skewers in the water.

Take a skewer and put the chicken pieces on the skewer. A dry skewer will burn and that's not what we want to see!

Heat the grill pan and put on the chicken pieces. You can use some oil that will prevent for sticking on the pan.

Turn the chicken pieces until they are golden brown on both sides.

Put the bread grate on and roaster your pita bread.

When the pita bread and the chicken souvlaki is done, its time to combine both things!
Notes
I hear a lot of stories of people who want to make Souvlaki, but the skewers will burn. To avoid this problem you put them in a bowl with water. When you take the meat out of the fridge you can combine them.
Another problem is the meat that is sticking on the grill pan. You can't avoid it really, but to have the 'least' damage, you can rub the grill pan with a little bit of olive oil.
To make the salad you can use the following ingredients: lettuce, red onion and tomato.
Nutrition
Calories:
302
kcal
Carbohydrates:
4
g
Protein:
54
g
Fat:
7
g
Saturated Fat:
2
g
Cholesterol:
160
mg
Sodium:
291
mg
Potassium:
994
mg
Fiber:
2
g
Sugar:
1
g
Vitamin A:
169
IU
Vitamin C:
6
mg
Calcium:
100
mg
Iron:
3
mg
FAQ Souvlaki
Below you can find the most frequently asked questions:
What is Souvlaki?
Souvlaki is a Greece Dish with small pieces of meat on a skewer.
Which ingredients do I need?
You need the following ingredients: chicken breasts, salt, pepper, dried oregano, garlic, olive oil and lemon juice.
How long does the chicken needs to grill?
That really depends of the heat of the grill pan. I recommend to turn the skewers until the chicken is golden brown on both sides.