I am a dessert lover. I think it has something magical. The flavors that are possible and the way that its put on the plate, just amazing. Just thinking about it makes me crave desserts. Besides my love for desserts, I also have a soft spot for chicken shawarma. It is a tradition in our family. Every Saturday we eat this with pita bread. I can tell you the one time it wasn't done, the whole mood in the house was different. It belongs to our family and I can look forward to it every week. In this article, we'll take a closer look at how to make Chicken Shawarma.
What is the definition of Chicken Shawarma
The meaning of Chicken Shawarma is:
"A Middle Eastern dish in which chicken is marinated and then slowly roasted. When the chicken has a nice color, it is then cut into thin slices".
History Shawarma
Shawarma can have different names: shoarma, chawarma, shaurma or showarma. Shawarma is one of the most popular street foods. Just take a look around you or just think about how many shawarma things you know in your region. It is particularly popular in the Middle East. Examples of these countries are Egypt, Algeria and Tunisia.
The history of this great dish also goes back to the Otoman Empire. Today's Turkey. The way of roasting has been done for centuries. The cutting of small slices of meat has been done since the 19th century. In Turkey Shawarma is known as Kebab and in Greece they call it Gyros.
Each continent has the dish with a different name, but also with a different piece of meat. For example, lamb meat is possible, but also sheep, veal, beef, chicken or turkey. The meat is marinated and then stacked on top of each other with a skewer. Officially, a motorized spit is used. This slowly turns while heating elements roast the meat. If the color of the meat is good, it is cut with a long knife. The meat can be served in a wrap, but also a pita or laffa. I personally prefer the pita!
Middle East and Shawarma
In the Middle East, the pita is then served with Chicken Shawarma, a salad and garlic sauce. In Israel this is done differently. The choice was not made for chicken, but turkey. This of course includes a tahini sauce. This has to do with faith. Milk and meat should not be eaten together. So a yogurt sauce is absolutely not possible. If I make a mistake in this, let me know in the comments! In Israel you then also get a salad with the pita. This salad consists of tomato, cucumbers and onions. Of course it varies per country what else is possible.
Chicken Shawarma Recipe
I hear you thinking: how do I make the shawarma. I don't have a motorized spit that slowly turns white heating elements roast the meat. You are not alone, I also don't have a motorized spit. It sounds really cool if you have one, but all you need is an oven. When you don't have an oven you can use a normal cooking pan.
The most important thing is to marinate the meat you are going to use. I recommend for at least 2 hours. In this two hours all the beautiful marinade can soak into the meat. When you put the marinade in a bowl with the meat you can put it in the fridge. Below i will explain the ingredients.
Ingredients Shoarma
To make this fantastic dish you need a couple of ingredients. The main ingredient is chicken breast or thighs (boneless en skinless). The other ingredients are: garlic, onion, lemon juice, olive oil. The spices I recommend are: pepper, salt, cumin, coriander, paprika, cardamom, cinnamon, red pepper flakes. Option are turmeric and sumac. It really depends on your own taste! You can find the recipe below or watch our video! You can serve this dish with Tzatziki.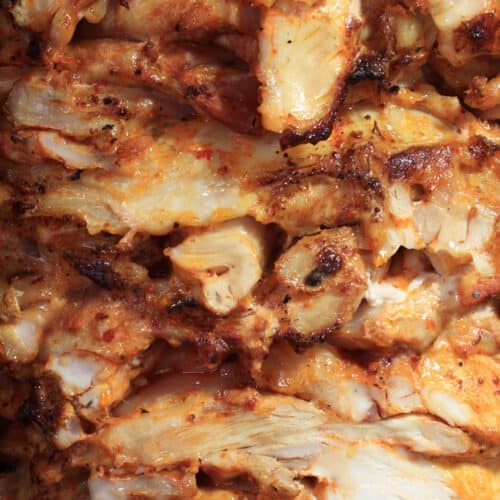 Chicken Shawarma
The best Chicken Shawarma recipe you can find! The Chicken Shawarma is really easy to make and fantastic to serve for your family! Enjoy!
Equipment
Bowl

Bread Grate

Cooking Pan
Ingredients
1

kg

Boneless Skinless Chicken Breasts

1

Onion

Olive Oil

4

gloves

Garlic

300

ml

Lemon Juice

8,5

grams

Paprika

8,5

grams

Salt

8,5

grams

Cumin

4

grams

Coriander

2

grams

Cinnamon

2

grams

Pepper

2

grams

Cardamon

2

grams

Red Pepper Flakes
Instructions
Take a bowl and put in the chicken

Add olive oil, lemon juice and pressed garlic in the bowl. Mix everything together.

Take a knife and slice the onion into rings or small cubes. Add this to the bowl and mix together.

Next step is to add the spices: pepper, salt, cumin, coriander, paprika, cardamom, cinnamon, red pepper flakes. Mix everything together.

Cover the bowl with a plastic wrap and pit it in the fridge for 2 hours.

Preheat the oven at 180 degrees Celsius.

Put the chicken on a rack and cook it for 18 minutes. Make sure to flip the chicken on the half of the time. Take on piece and cut it half to make sure the chicken is ready. Otherwise place it in the oven for another 2 minutes.

Take the Chicken Shawarma out of the oven. It's time to slice the chicken and serve it with a warm pita bread!
Notes
If you don't have an oven you can use the second option: a cooking pan. Place the marinated chicken in a cooking pan and bake it until its golden brown.
For making the salad you can use tomatoes, onions, lettuce and shredded cabbage. 
Nutrition
Calories:
328
kcal
Carbohydrates:
10
g
Protein:
54
g
Fat:
7
g
Saturated Fat:
2
g
Cholesterol:
160
mg
Sodium:
1128
mg
Potassium:
1090
mg
Fiber:
2
g
Sugar:
3
g
Vitamin A:
384
IU
Vitamin C:
37
mg
Calcium:
48
mg
Iron:
3
mg
FAQ Chicken Shawarma
Below you can find the most frequently asked questions:
What is Chicken Shawarma?
Chicken with a fantastic marinate that is roasted in the oven or cooking pan. Slice the meat in thin slices and serve it with a pita, salad and sauce!
Which ingredients do I need?
You need the following ingredients: Boneless Skinless Chicken Thighs or Breasts. The other ingredients are: garlic, onion, lemon juice, olive oil. The spices I recommend are: pepper, salt, cumin, coriander, paprika, cardamom, cinnamon, red pepper flakes.