In an earlier article, the foundation was laid for the sauces of the modern kitchen. Also known as the 5 Mother of Sauces. The following sauces have already been treated: Béchamel and Espagnole. Today it's time for the third sauce: Velouté. In this article, we'll take a closer look at how to make Velouté sauce.
What is the definition of Velouté Sauce
The meaning of Velouté is:
"Velouté sauce is one of the 5 mother of sauces. It's made from a roux in combination with a light stock".
About Velouté
This sauce belongs to one of the five mother sauces of French cuisine. Veloute is similar in color to Béchamel. Both sauces are white and have a roux base. As mentioned earlier, you can make roux by combining melted butter with flour. Instead of milk as with Bechamel, add stock to this sauce. You can use different broths. Most common is chicken followed by veal and fish. This sauce is often served with a chicken or fish dish. You can add salt and pepper to this sauce to season it. It gets the name of the sauce from the stock that is used. You have the following options:
Chicken Veloute
Veal Veloute
Fish Veloute
This sauce is the basis for many other sauces. Maybe you have ever eaten a sauce that was a derivative of this sauce. Time to see which sauces you can make by using Veloute as a base.
Derivatives Velouté 
When you have a nice poultry or seafood dish, you want a great sauce that gives the dish a boost. That takes it to the next level. Because this sauce is a base, there are many derivatives. Below I have made a list:
Aurore sauce
Albufera sauce
Allemande sauce
Bercy sauce
Normande sauce
Poulette sauce
Ravigote sauce
Vin Blanc sauce
Supremé sauce
Wine sauce
In the section sauces you can find the recipes I already have written. The list above will be added over time. It's time to tell the ingredients for this sauce and the recipe!
Velouté Sauce Recipe Ingredients
To make this fantastic sauce you need the following ingredients: butter, flour, light stock, pepper and salt. You can find the recipe below or watch my videos on YouTube!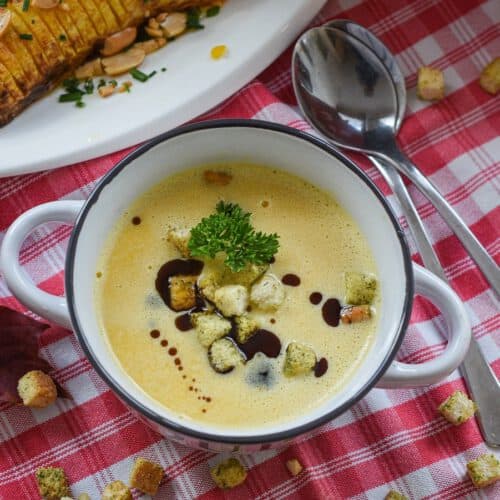 Velouté Sauce
The best Velouté Sauce recipe you can find. This easy light stock sauce recipe is for every home chef. Enjoy!
Ingredients
470

ml

Chicken Stock

60

grams

Unsalted Butter

60

grams

Flour

Salt

Pepper
Instructions
Put two saucepans on medium heat on the stove.

In the first one add the butter and let the butter melt completely.

In the second one add the Chicken stock and bring it to a boil.

When the butter is melted add the flour in the first pan. Keep on mixing it together. After mixing together you will get a roux.

When the chicken stock is boiling it's time to add it to the roux. Keep on stirring.

After the stock is added let the sauce simmer for 20 to 30 minutes. Season the sauce with some pepper and salt. After the 20-30 minutes the sauce is ready to serve!
Nutrition
Calories:
204
kcal
Carbohydrates:
16
g
Protein:
5
g
Fat:
14
g
Saturated Fat:
8
g
Cholesterol:
36
mg
Sodium:
170
mg
Potassium:
139
mg
Fiber:
1
g
Sugar:
2
g
Vitamin A:
375
IU
Vitamin C:
1
mg
Calcium:
7
mg
Iron:
1
mg
FAQ Velouté Sauce
Below you can find the most frequently asked questions:
What is Velouté Sauce?
One of the 5 mother of sauces. It's made from a roux in combination with a light stock. This can be chicken, fish or veal.
Which ingredients do I need?
You need the following ingredients: butter, flour, light stock, pepper and salt. For the light stock i used Chicken.
How much stock do I need?
I recommend to use 470 ml of stock.