As I told earlier I'm not a fan of sour sauces. But sauces like Mornay or Béchamel can take a dish to the next level. These sauces are easy to make with a couple of ingredients. I have found a new sauce for this week and it only takes one ingredient. Yes you read that right: one ingredient. The only problem is it will take up to 3 hours before the sauce is done. I'm talking about Dulce de Leche. In this article, we'll take a closer look at what is Dulce de Leche.
What is the definition of Dulce de Leche
The meaning of Dulce de Leche is:
"Dulce de Leche is a caramel paste that is popular in South America"
What is Dulce de Leche
The caramel paste has a lot of different names in South America. These names are: arequipe, cajeta, cremita de leche, doce de leite, majablanco, manjar, manjar blanco and manjarblanco. There is no history about this sauce, so I will explain more about how to make it.
It is therefore a well-known sauce, especially in South America. You can make it by heating condensed milk that is packed in a can. You need to fill a pan with hot water and place the can in the pan. By heating up the condensed milk there will be a maillard reaction. The condensed milk will get a different color, from white to brown. Of course, the longer you heat the can, the darker the color will be. So it's a super simple sauce and all you need is: condensed milk. There are two other ways I explain in the next chapter.
Three ways to make Dulce de Leche
There are three ways to make the sauce:
In the Oven
Boil down in a pan
Cooking the sealed cans
You can use all these three methods. I only tried the last option. In the second option, you add the milk to a pan and stir it until it changes color. When it turns a caramel color, you know it's good and take the pan of the heat.
I used the last method myself: a can of condensed milk in a pan with water. However, it is indicated everywhere on the internet that this is the most dangerous method, as there is "explosion danger".
I will explain why this does not occur if you pay attention. So you place a can of condensed milk in a pan with hot water. You let this boil for 2 to 3 hours. Depending on how brown you want the color to be. Most importantly, the can is always under water. If this is not done, there is a possibility for expanding the can that gives an explosing. A second important point is what to do after the 2 to 3 hours of cooking: remove the can from the water and let it cool completely. If you don't do this, the delce de luche will also spray out of the can. And I can know this because it happened to me the first time. Always read the small letters in a post.
When to use
The best way to use this sauce is for cakes, ice cream, pancakes or also called panqueques, churros and biscuits. You can use it as a glaze for cakes and as a spread for pancakes. The taste is amazing! It's time to show the ingredients and the recipe.
Ingredients for Dulce de Leche
To make this fantastic sauce you only need one ingredient: condensed milk in a can.
You can find the recipe below or watch our video!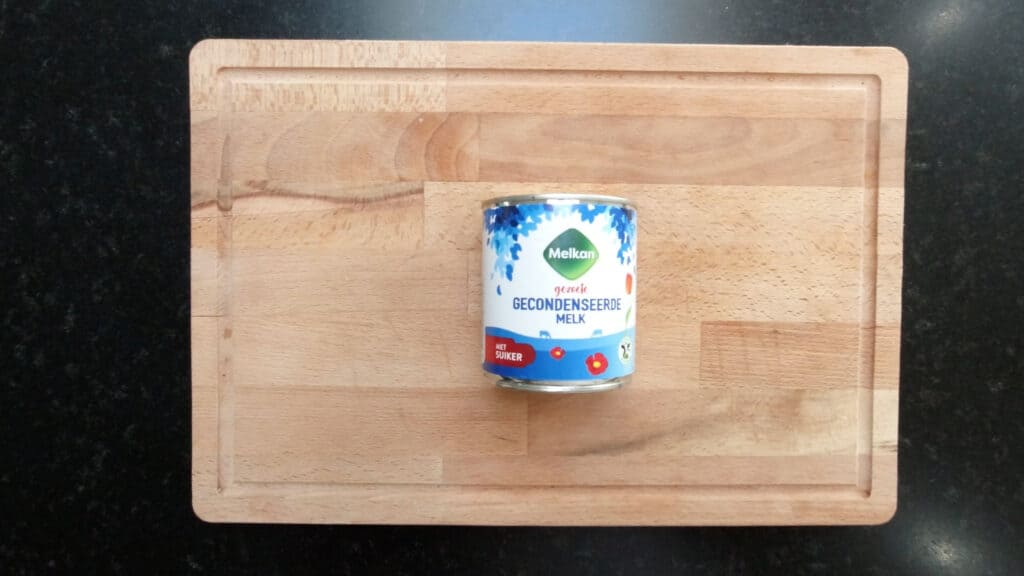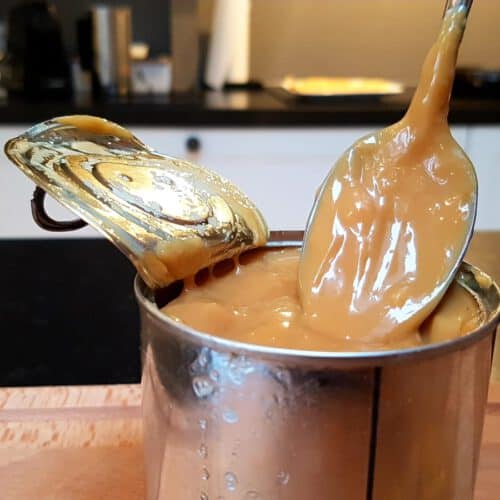 Dulce de Leche
The best Dulce de Leche recipe you can find! It takes a couple of hours but every home chef can make this. Enjoy!
Ingredients
400

ml

Condensed Milk

Hot Water
Instructions
Fill a pan with hot water

Place the can in the center of the pan. The can needs to be completely underwater.

Bring the water to a boil. After the water is boiling turn the heat on low for 3 hours.

Add hot water when the can is above the surface of the water.

After three hours let the can cool down almost completely before opening it.
Video
Notes
The most important things are: make sure the can is always underwater during the 3 hours. After the 3 hours make sure to cool the dulce de leche almost completely before opening.
Nutrition
Calories:
321
kcal
Carbohydrates:
54
g
Protein:
8
g
Fat:
9
g
Saturated Fat:
5
g
Cholesterol:
34
mg
Sodium:
127
mg
Potassium:
371
mg
Sugar:
54
g
Vitamin A:
267
IU
Vitamin C:
3
mg
Calcium:
284
mg
Iron:
1
mg
FAQ Dulce de Leche
Below you can find the most frequently asked questions:
What is Dulce de Leche?
Dulce de Leche is a caramel paste that is popular in South America.
Which ingredients do I need for this recipe?
You need the following ingredients: condensed milk.
How long does it need rest?
It will takes around 20 until 30 minutes before the can is cooled.