You probably know that I am a huge fan of desserts. If you don't know yet, you know now. A dessert is the last dish. This dish must be good. In the end, you often remember the last thing you ate. A dessert can be made with many different ingredients or just very simple.  And when it is simple, it must also be very good. Examples of my favorite desserts are Lemon Pound Cake, Tiramisu, Crème brûlée and Lava Cake. Another fantastic dessert: Chocolate Mousse. In this article, we'll take a closer look at how to make Chocolate Mousse.
What is the definition of Chocolate Mousse
The meaning of Chocolate Mousse is:
"A chocolate mousse is a dessert that contains air bubbles to provide the airy and light texture. The mousse can be light, but also thick and creamy".
History Mousse
A mousse can be light, but can also be a thicker substance. When we look at the history of the mousse, we are mainly talking about desserts. In luxury restaurants, the mousse is often made from meat, fish, shellfish, cheese or vegetables.
The chocolate mousse or chocomouse is originally from France. In France, the dish is called mousse au chocolat. The preparation method of the traditional chocolate mousse is done with dark chocolate.  You can also use milk chocolate or white chocolate. The chocolate is melted au bain-marie. With this preparation method you place a bowl filled with the chocolate over a pan with warm boiling water. This ensures that the chocolate will melt. After the chocolate is fully melted, you can add whipped egg whites or whipped cream. The whipped egg white gives the mousse its light texture.
When you cool the mousse in the fridge the substance will change. It will becomes stiffer. This is the case in my video. I left the mousse in the refrigerator for 15 minutes to stiffen a little bit. I did forget that my fridge was too cold.
In addition, the mousse does not need to be in the refrigerator, it depends on the situation. When you are preparing the dessert, but it will be served in an hour you can put it in the fridge first. It is important that your refrigerator is not too cold!
Ingredients for Chocolate Mousse
To make this fantastic dessert you need two ingredients. The ingredients are: Dark Chocolate and Heavy Cream. You can find the recipe below or watch our video! To give this dessert some decoration I cocoa powder.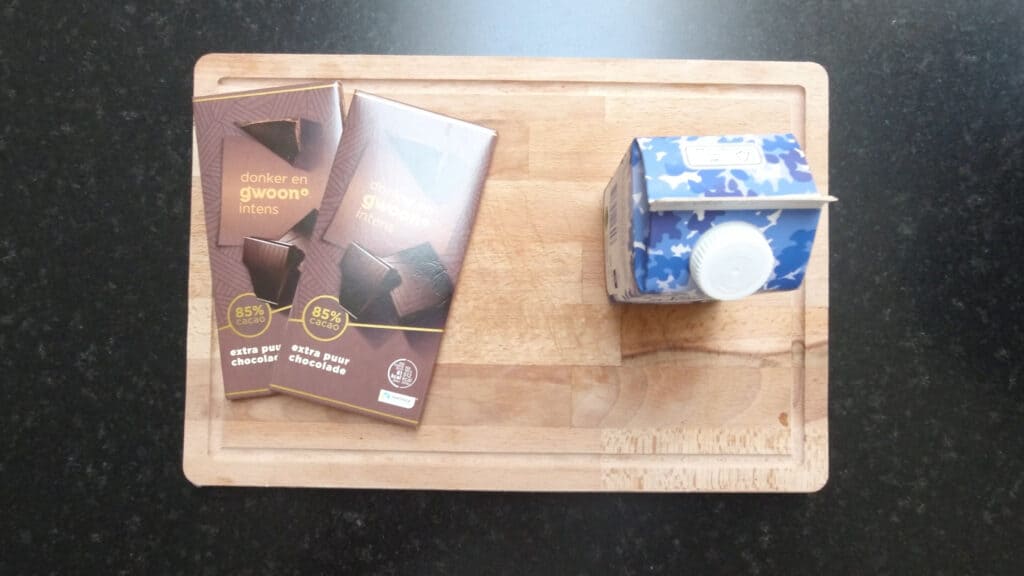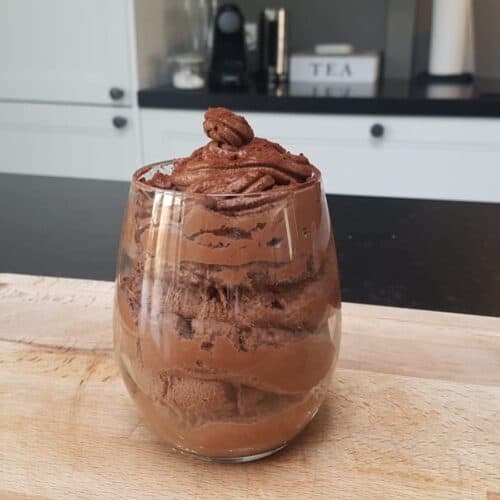 Chocolate Mousse
The best Chocolate Mousse recipe you can find! The Chocolate Mousse is really easy to make and fantastic to serve as a dessert. Enjoy!
Equipment
Saucepan

Bowl

Kitchenmachine
Ingrediënten
200

grams

Dark Chocolate

400

ml

Heavy Cream
Instructies
Unpack the chocolate and chop it into small pieces.

Add the chocolate to a heat resistant bowl.

Fill a pan with hot water.

Melt the chocolate au bain marie.

Add 100 ml of heavy cream to the melted chocolate.

Add 300 ml of heavy cream to a bowl and use a kitchen machine to make whipped cream. When the mixture contains "peaks" the whipped cream is ready

Add the cooled chocolate little by little with the whipped cream. Mix everything well.

Fill a glass with the chocolate mousse and finish it with cocoa on top.
Nutrition
Calories:
1288
kcal
Carbohydrates:
51
g
Protein:
12
g
Fat:
117
g
Saturated Fat:
71
g
Cholesterol:
277
mg
Sodium:
96
mg
Potassium:
865
mg
Fiber:
11
g
Sugar:
24
g
Vitamin A:
2979
IU
Vitamin C:
1
mg
Calcium:
203
mg
Iron:
12
mg
Heb je dit recept als eens geprobeerd?
Let us know how it was!
FAQ Chocolate Mousse
Below you can find the most frequently asked questions:
What is Chocolate Mousse?
It's a dessert that contains air bubbles to provide the airy and light texture. The mousse can be light, but also thick and creamy.
Which ingredients do I need?
You need the following ingredients: Dark Chocolate and Heavy Cream.
Which chocolate do I need to use?
I prefer dark chocolate, but you can use milk chocolate or white chocolate.