Vegetables are a perfect addition to a dish and can also serve as a side dish. It was a new world for me that opened my eyes. Vegetables have a wonderful taste and color. In addition, it is absolutely not difficult. This is the idea that I had in my head before I started to read more about this amazing world. I was watching an episode on Netflix about the Middle East. The most beautiful dishes and colors came together on a plate. The woman who was making it must have been a great home chef. But you can become that too! Baba Ganoush, Fried Eggplant, these are also simple dishes that you can make. In this article, we are going to take a closer look at how to make roasted bell peppers.
What is the definition of Roasted Bell Peppers
The meaning of Roasted Bell Peppers is:
"The Bell Peppers needs to be roasting over a heat source that gives off heat. This will give the outside a roasted black color, forming a crust. Roasting makes the meat juicier and the vegetables shrink. When roasting, as the name implies, the vegetables lie on a grid".
History Bell Peppers
The bell pepper have a second name: sweet pepper. In European countries the vegetable gets the name Paprika. I did not know this either, but peppers are originally from Central and South America. Around 1492 the ships with seeds were first exported to Spain and spread through Europe and Asia. The mild peppers were developed in Hungary around 1920. A bell pepper grows best in a warm climate. The temperature must be between 21 degrees and 29 degrees Celsius. The soil for growing the vegetable must be moist for the best end product.
The name pepper was given to the vegetable by Christopher Columbus around 1492. This was the time when the vegetable was brought back to Europe. In Europe, the name pepper was a collective name for all ingredients and spices that had a sharp and hot taste. The peppers come in different colors. The most popular colors are red, yellow and green. Other possibilities are also white and purple. The largest pepper bell producer is China. Other producers are Mexico and Turkey.
Bell peppers consist for the most part of water. Water is around 94% of the vegetables. Followed by 5% carbohydrates. A pepper contains a lot of vitamin C and ADH.
Ingredients
To make this side dish you need a couple of ingredients. The main ingredient: Paprika / Bell Peppers. The other ingredients are: Olive Oil. That's it. Only two ingredients. You can find the recipe below or watch the video!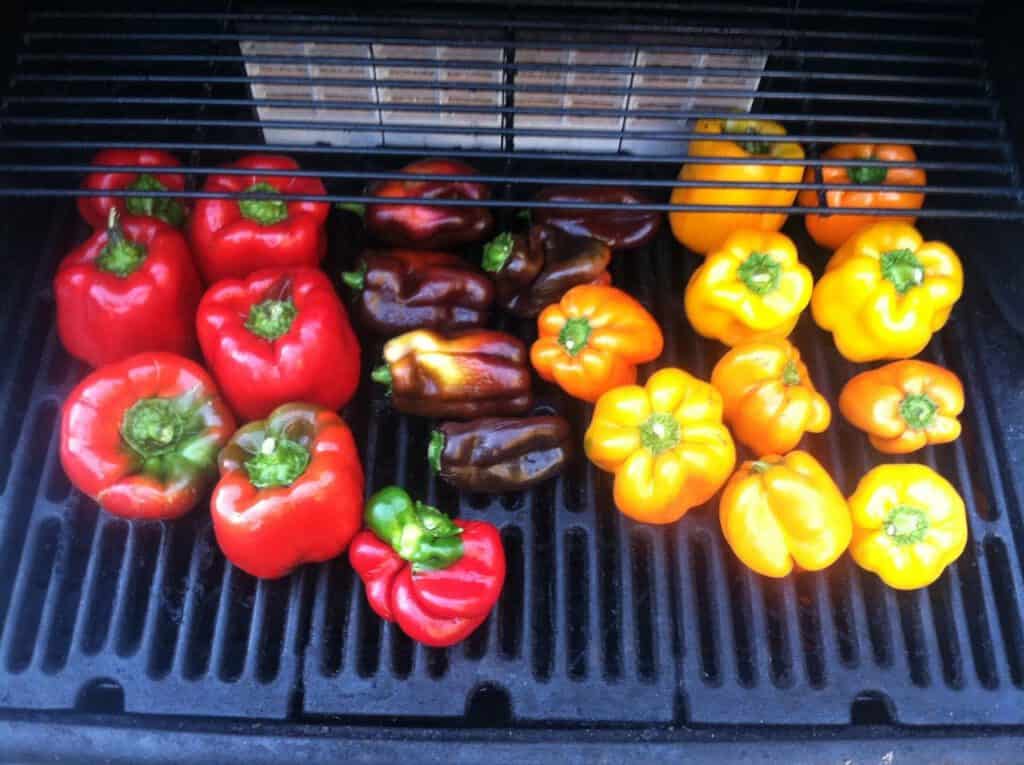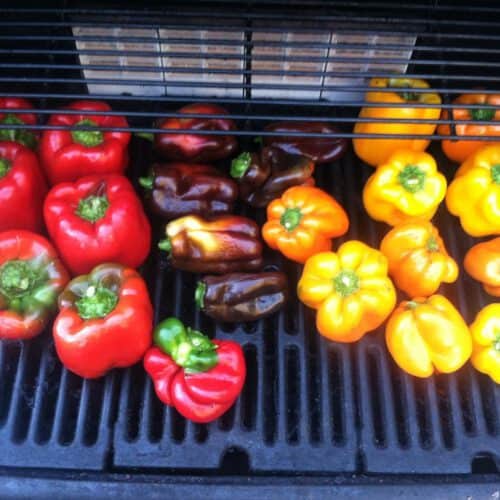 Roasted Bell Peppers
For this recipe you only need two ingredients: Bell Peppers and Oil. The perfect side dish to serve for your friends and family. Enjoy!
Instructies
Preheat the oven on 204 degrees Celsius

Fill a bowl with olive oil and brush the bell peppers with the olive oil

Place the bell peppers on a baking plate and put it in the oven for 15 minutes.

After 15 minutes turn the bell peppers and roast them for another 15 minutes.

The bell peppers are roasted for 30 minutes. In the last 20 minutes, turn the peppers once more after 10 minutes.

After 50 minutes of roasting the peppers they have a dark color, feel soft and have been shrinking. If this isn't the case. You need to roaster them for at least 10 more minutes.
Notities
After roasting the bell peppers in the oven you have the choice for seasoning. You can add some pepper and salt or eat them without any seasoning.
Nutrition
Calories:
37
kcal
Carbohydrates:
7
g
Protein:
1
g
Fat:
1
g
Saturated Fat:
1
g
Sodium:
5
mg
Potassium:
251
mg
Fiber:
3
g
Sugar:
5
g
Vitamin A:
3726
IU
Vitamin C:
152
mg
Calcium:
8
mg
Iron:
1
mg
Heb je dit recept als eens geprobeerd?
Let us know how it was!
FAQ Roasted Bell Peppers
Below you can find the most frequently asked questions:
What are Roasted Bell Peppers?
The Bell Peppers needs to be roasting over a heat source that gives off heat. This will give the outside a roasted black color, forming a crust.
Which Oil do I Need?
You can use normal Olive Oil.
How long does the roasting take?
That depends on your oven. Normally it will take between 50 and 55 minutes.