One of the advantages of a passion for food is that you often want to make everything. I can't deny when I see some YouTube channels that I get so hungry. Then I open Netflix and often watch videos about food. I find it interesting to find out in which country which dishes are popular. Italy is currently at my number 1. In terms of dishes, I am a real fan of desserts: Lemon Pound Cake, Tiramisu, Crème brûlée, but my favorite: Lava Cake. I know, it's a simple dish, but that's why it's so tasty! One of the desserts I want to make is a Cake with a lemon taste and strawberries. Normally I don't like warm fruit on a dessert, but maybe this recipe can make a difference. In this article, we'll take a closer look at how to make Strawberry Cake.
What is the definition of Strawberry Cake
The meaning of Strawberry Cake is:
"A Strawberry cake is a healthy cake with the taste of lemon and strawberries on top. You can use the cake as a breakfast or a dessert"
Ingredients
To make this fantastic cake you need eight ingredients. The ingredients are: Eggs, Sugar, Olive Oil, White Yogurt, Flour, Baking Powder, Lemon and Strawberries. You can find the recipe below or watch our video!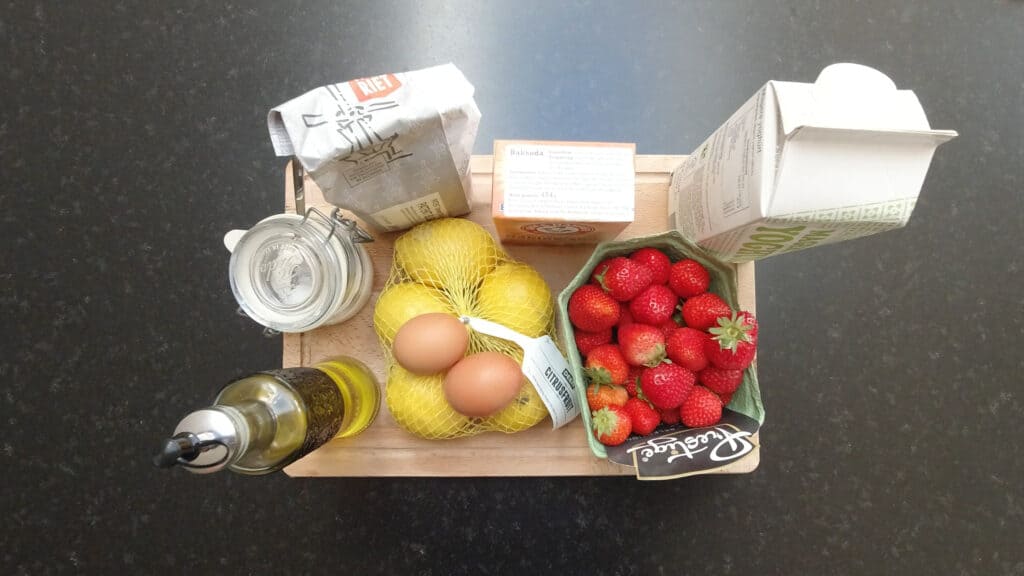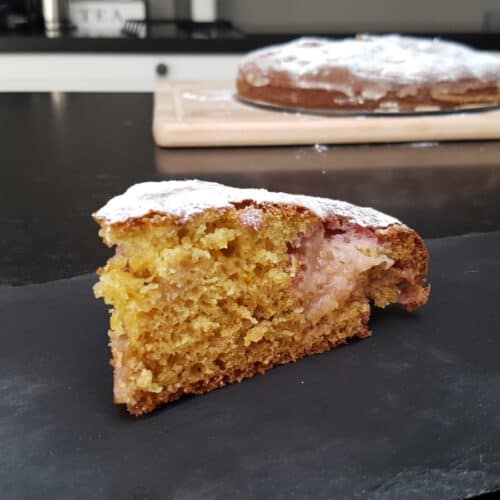 Strawberry Cake
An easy healthy recipe to make a Strawberry Cake. You can eat this as a breakfast or a dessert. Enjoy!
Ingredients
2

Eggs

200

grams

Granulated Sugar

60

ml

Olive Oil

150

grams

Yogurt

250

gram

Flour

8

gram

Baking Powder

1

Lemon

350

grams

Strawberries
Instructions
Add two eggs and 200 grams of sugar to a bowl. Whisk everything together until you get the creamy color.

Next add 60 ml of olive oil and 150 grams of yogurt to the mixture. Mix everything well.

Add 250 grams of flour and 8 grams of baking powder in a separate bowl. Mix this with a spoon.

Sift the flour/baking powder into the mix. Stir everything well until you get a smooth substance.

Grate the zest of a whole lemon into the mixture.

Cut 150 grams of strawberry's and add this also to the mix.

Preheat the oven to 180 degrees Celsius. Grease your baking pan with unsalted butter. Add a little bit of flour to create a tiny layer.

Add the mix to your baking pan. Add 200 grams of strawberries on top of the cake.

Bake the cake for 1 hour at 180 degrees Celsius. When the cake is baked let it cool for 30 minutes.

At last sprinkle powdered sugar on top of the cake. You are ready to eat!
Video
Nutrition
Calories:
258
kcal
Carbohydrates:
44
g
Protein:
5
g
Fat:
8
g
Saturated Fat:
1
g
Cholesterol:
35
mg
Sodium:
106
mg
Potassium:
131
mg
Fiber:
2
g
Sugar:
23
g
Vitamin A:
62
IU
Vitamin C:
26
mg
Calcium:
82
mg
Iron:
2
mg
FAQ Strawberry Cake
Below you can find the most frequently asked questions:
What is Strawberry Cake?
It's a healthy cake with the taste of lemon and strawberries on top. I have chosen for a healthy version with yogurt.
Which ingredients do I need?
You need the following ingredients: Eggs, Sugar, Olive Oil, White Yogurt, Flour, Baking Powder, Lemon and Strawberries.
How long does it take to make?
The preparation is about 15 minutes. Baking 1 hour. Resting 30 minutes. A total of 1 hour and 45 minutes for enjoying the cake!