You often see the most beautiful desserts on the internet. They are perfectly crafted and executed by pro chefs. Making Dessert doesn't have to be difficult, that's my opinion. A dessert must be suitable for everyone and it must also taste good. Whether it's Chocolate Chip Cookies, Tiramisu or Lemon Pound Cake. A dessert is the end of a nice evening and can ultimately turn an evening into a party or a setback. Today a recipe for a dessert that is easy to make: custard cream. In this article, we'll take a closer look at how to make custard cream.
What is the definition of Custard Cream
The meaning of Custard Cream is:
"Custard cream is a yellow pudding cream that is eaten as a dessert. You can also use it to fill up different type of desserts like eclairs, cream puffs or filling up cakes. The basis consist of milk, sugar, eggs and vanilla".
About Custard Cream
Custard cream can therefore be used as a dessert itself, a binder is often added to make it thicker. There are many different names for the cream. Below I have listed the most common names:
Banketbakkersroom: Dutch
Vanillebanketbakkersroom: Dutch
Crème pâtissière: Dutch
Crème anglaise: French
English Cream: English
Pastry Cream: English
Making Custard Cream
To make the cream you need a number of things. Later on this will be again mentioned. You need egg yolks, sugar, milk and vanilla. To make the cream, start by beating the egg yolks and sugar. The color of the mixture should be close to white. Then you heat the milk. The milk does not need to boil, but you should be able to see the steam from the milk. When this is the case, slowly add the milk to the mixture. Keep stirring well. If you have made the milk too warm, it may curdle. You can counteract this by adding a little warm water to the mixture and keep stirring it.
When all the milk has been added, you can add the vanilla. I recommend using vanilla beans (seeds). This gives a better vanilla flavor than an extract and it also looks better! Then add the mixture in a saucepan and cook over low heat. Make sure to stir constantly. You will see the sauce thicken. In its current form you can use it for the base of creme brulee or use is as drinking custard.
Only this time we want to have it even thicker. To make it thicker you need a binding agent. In this case you add the cornstarch and keep stirring. When the cornstarch is completely absorbed, remove the pan from the gas. The custard cream is done and is ready to serve.
Different toppings
The cream itself is delicious as well, but you can even make it better by adding toppings. There are a couple of examples you can add (like you see in the picture below):
Fruits
Yogurt
Whipped Cream
Crumble cookies
Chocolate
Cinnamon
Syrup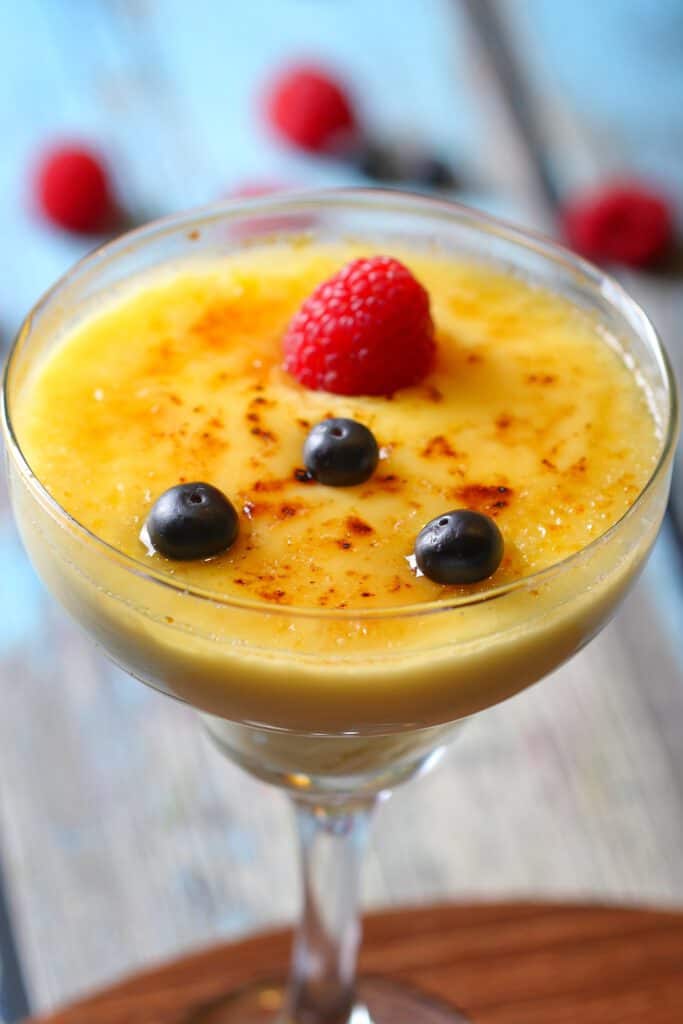 Pasty Cream Recipe Ingredients
To make this fantastic dessert you need the following ingredients: egg yolks, sugar, milk, vanilla pod and cornstarch. Optional is to add unsalted butter. You can find the recipe below or watch my videos on YouTube!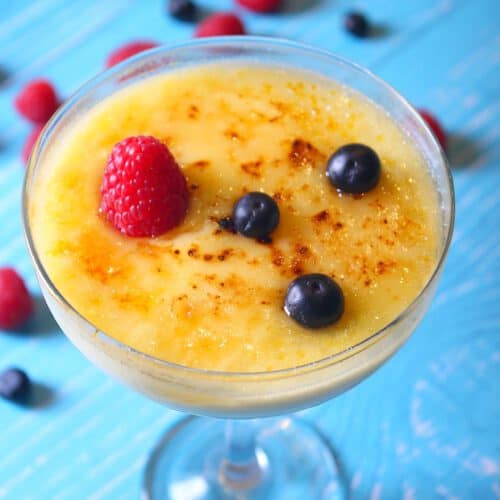 Custard Cream
A new dessert: Custard Cream. This is the best recipe you can find. This dessert recipe is for every home chef and is perfect to share with friends and family. You can this recipe also to fill up a cake!
Ingredients
1

liter

Milk

4

Egg Yolks

250

grams

Sugar

60

grams

Corn Starch

1

Vanilla Pod
Instructions
The first step is to add the Egg Yolks and the Sugar in a bowl. Mix it together.

Put a saucepan on medium heat on the stove. Add the milk. The milk doesn't need to boil, it needs to become warm.

When the milk is warm add it slowly to the egg yolks mix. Keep whisking it together.

After all the milk is added to the mix put it back in the saucepan on medium heat.

Add the vanilla seeds in the mixture and keep whisking.

Add the cornstarch to make the custard cream thicker. Keep mixing together. You will see that the cream will get thicker. Heat the mixture up until its cooking.

Remove the saucepan from the stove. Let the custard cool down until room temperature and put it in the fridge overnight. It's ready to serve the next day!
Notes
Optional is adding 40 grams of unsalted butter to the mix after you have add the cornstarch. 
Nutrition
Calories:
512
kcal
Carbohydrates:
89
g
Protein:
11
g
Fat:
13
g
Saturated Fat:
6
g
Cholesterol:
220
mg
Sodium:
118
mg
Potassium:
350
mg
Fiber:
1
g
Sugar:
75
g
Vitamin A:
665
IU
Calcium:
306
mg
Iron:
1
mg

FAQ Custard Cream
Below you can find the most frequently asked questions:
What is Custard Cream?
Custard cream is a yellow pudding cream that is used to fill up different type of desserts like eclairs and cream puffs or filling up cakes. You can also eat it as a dessert! The basis consist of milk, sugar, eggs and vanilla.
Which ingredients do I need?
You need the following ingredients: egg yolks, sugar, milk, vanilla pod and cornstarch. Optional is adding unsalted butter.