In a previous post I described exactly what Overnight Oats are and how you make them. Today a new recipe to get your morning off with a good start. I have received a number of questions about the best way of making Oatmeal. A healthy start to your day with many different options! In this article, we'll take a closer look at how to make Oatmeal.
What is the definition of Oatmeal
The meaning of Oatmeal is:
"Oatmeal is dried, hulled an cut oats. These oats are used for breakfast that are served in porridge form".
Types of Oatmeal
Breakfast therefore consists of a kind of coarse flour, which is made from hulled oat grains. There is the choice to grind them or to cut them. There are three types of oats:
Rolled Oats (old fashioned): These oats are ticker than the quick oats. Because the thickness, it takes some extra time when cooking them. This are the type of oats I normally use for my oatmeal.
Quick Oats: like the name says, this is the type that is the fasted done when you are cooking them.
Steel Cut Oats: Also known as the whole oats, pinhead oats, coarse oatmeal or Irish oatmeal. The taste of the oats can be more nuttier. It will take you between 15 until 30 minutes to cook them. You can use them for your breakfast, it only takes some time.
Basically you can use these three types for your breakfast. If you want a quick breakfast, rolled oats and quick oats are the best choice. If you have all the time in the morning, you can choose all 3 types. My preference is for rolled oats.
Making Oatmeal
When you have chosen one of the three types, it is time to make your breakfast. You have oats that you can eat uncooked. These are often used in muesli. Below are more examples of the use of oats:
Breakfast porridge
Muesli
Muesli bars
Granola
Apple Brown Betty
Apple Crisp
The moment you start boiling them with water and milk, the substance will change. The oats become soft, creating a porridge. It's super easy to make and also contains good nutritional value.
Below an example of 100 grams of oatmeal. Ultimately, this may differ per brand, but then you have a bit of an idea how healthy this actually is.
Calories: 380 calories
Water: 9,4 grams
Protein: 13,1 grams
Fat: 7 grams
Carbohydrates: 62 grams
Of which is sugar: 4,5 grams
Dietary fiber: 7,5 grams
I'm not a doctor, but studies have shown that eating oatmeal can lower the risk of heart disease and lower blood cholesterol. In addition to being good for you, you can use this well in a diet if you want to lose weight or gain weight.
Oatmeal for weight loss
Breakfast is packed with protein, carbohydrates and low in fat. If you want to lose weight, you can use this meal. Depending on how many calories you can eat for weight loss, plain oatmeal (100 grams) contains about 380 calories. It is important to always check this, as this can differ per brand. Also check the amount of sugar. Certain brands may add more sugar to the oats.
In addition to the oat, you also need milk or water to make an oatmeal. If you really want to lose weight and are counting every calorie, the best choice is to use water as it is low in calories. If you do want to use milk, these are the best options:
Both contain few calories compared to standard cows milk. To give the breakfast a sweet taste, the best choice is stevia. Stevia is full of carbohydrates, but contains no sugars. Finally, you want to have a topping. You can therefore choose fruit. The best options are:
Grapefruit
Berries
Passion Fruit
Strawberries
Add all the elements together and you've made yourself a breakfast for weight loss!
Oatmeal for weight gain
The other side of weight loss is that you want to have a breakfast where you take in a lot of calories to gain weight. You need to choose milk that is high in calories. Whole Cow milk or chocolate milk are then recommended. To add more protein to your breakfast, you can choose to add two eggs or simply add a scoop of protein powder. This will boost the protein intake of your breakfast!
The part where you can add the most calories is in the topping. Fat contains a lot of calories. Some examples are:
Peanut Butter
Chopped Almonds
Pecan nuts
Banana
Advocado
Chocolate Chips
This are some ideas for you gaining weight! It's time to discuss the ingredients of the recipe!
Oatmeal Ingredients
To make this fantastic breakfast you need the following ingredients: rolled oats, Chia seeds, almond milk, vanilla extract, cinnamon and stevia. For the topping I use some strawberries. You can find the recipe below. Interested in cooking videos, go to my YouTube Channel!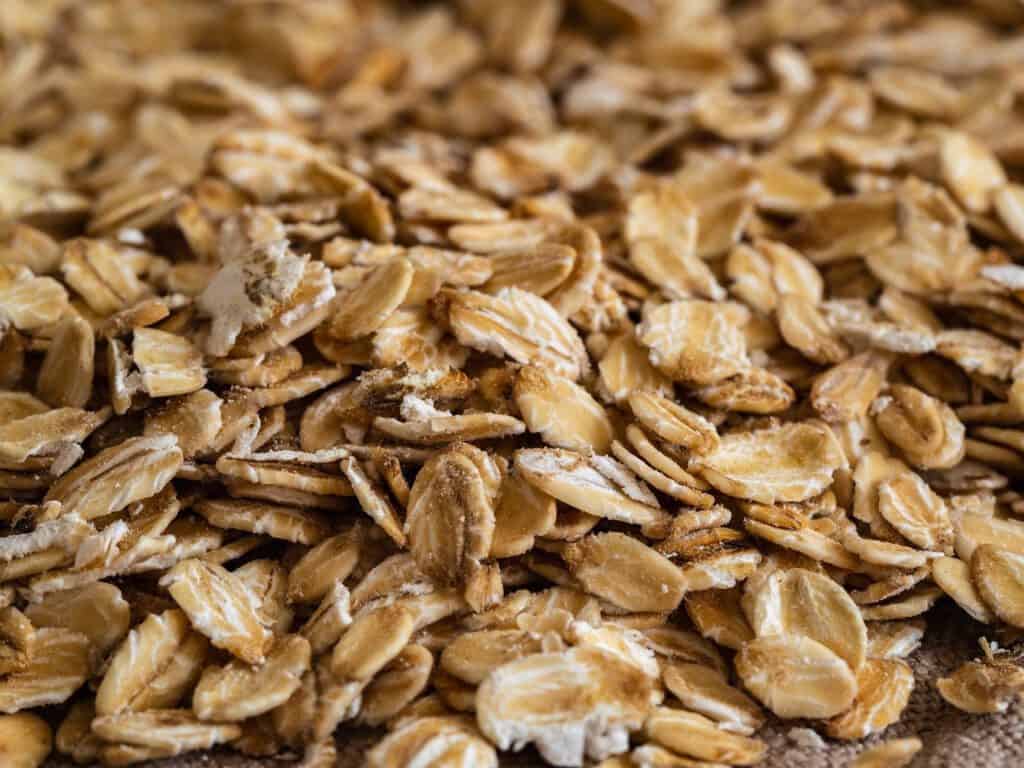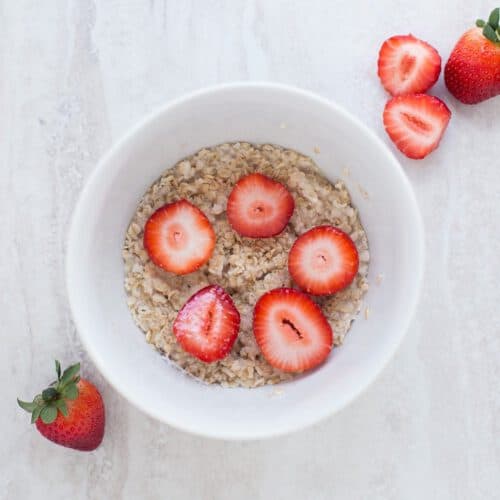 Oatmeal
The best Oatmeal recipe you can find. This breakfast recipe is for every home chef. Enjoy!
Ingredients
45

grams

Rolled Oats

120

ml

Almond Milk

120

ml

Water

13

grams

Chia Seeds

Cinnamon

2

grams

Vanilla Extract

4

Strawberries

Stevia
Instructions
Grab a saucepan and put it on medium heat.

Add the water and milk. Bring this to a boil.

When the milk and water is boiling, turn down the gas to low. Add your oats.

Stir everything together. You will notice that the oats are getting soft.

After a couple of minutes most of the water and milk is absorbed. It's time to put the gas off. I recommend to keep it in the pan for 1 to 2 minutes to cool.

Move the oats from the pan into a bowl.

Add the cinnamon, Stevia, Chia seeds and Vanilla Extract. Mix everything together.

Cut the strawberries and place them on top. You have made yourself an healthy oatmeal! Enjoy your breakfast!
Notes
You can prepare oatmeal in two ways:
Microwave
Stove
I have already explained the stove above. You add the water and milk in a pan. You then let this cook. Then you turn down the gas and add the oats. When most of the milk and water has been absorbed, let the substance rest in the pan for 1 to 2 minutes. Then you can add the toppings and the other ingredients.
For a microwave you put all the ingredients in a bowl. You don't have to do your topping just yet. You put the dish in the microwave on a high wattage for 2 to 3 minutes. Every 20 to 30 seconds I advise you to stir everything together well. If you notice that it is not completely warm after the 2 to 3 minutes, add 30 seconds each time.
Nutrition
Calories:
272
kcal
Carbohydrates:
40
g
Protein:
9
g
Fat:
9
g
Saturated Fat:
1
g
Sodium:
167
mg
Potassium:
289
mg
Fiber:
10
g
Sugar:
3
g
Vitamin C:
28
mg
Calcium:
249
mg
Iron:
3
mg
FAQ Oatmeal
Below you can find the most frequently asked questions:
What is Oatmeal?
Oatmeal is dried, hulled an cut oats. These oats are used for breakfast that are served in porridge form.
Which ingredients do I need?
You need the following ingredients: rolled oats, Chia seeds, almond milk, vanilla extract, cinnamon and stevia. For the topping I use Strawberries.
How long does it take to make?
The Total time is 12 minutes.