I have been lucky enough to go to Italy with friends and family for a holiday. A house in the Tuscany area. Beautiful landscape and I don't know what it is, but Italians have everything well organized. The landscape, beautiful weather, great clothing style, beautiful language and fantastic food. Italy is fascinating! I always felt that pasta would be difficult and a lot of work. The Italians mainly make it simple. One of the most iconic pastas is of course Pasta Carbonara. If you want a pasta without meat, Funghi is a solution. In this article, we'll take a closer look at how to make Pappardelle ai Funghi.
What is the definition of Pappardelle ai Funghi
The meaning of Pappardelle ai Funghi is:
"Pappardelle ai Funghi is an Italian pasta in which long wide ribbons of pasta are used with several different mushroom types. This pasta can also be seen as a vegetarian pasta."
History 
I would like to know the story behind each dish I make. Where did it originate, who invented the dish and how did it move around the world. The origin of a dish is not always available on the internet. We know from Pappardelle that it has ribbons / strings of more than 1 cm wide. Pappardelle comes from the Italian region Tuscany. The inventor of this dish or the history behind is not available. What I can tell you is that you can eat the dish with different pasta types such as Tagiatelle Ai Funghi.
Ingredients
To make this main dish you need a couple of ingredients. The ingredients are: Chestnut mushrooms, shiitake mushrooms, oyster mushrooms, white wine, pappardelle, parsley, thyme, garlic, union, lemon, olive oil, salt, pepper and Parmigiano Reggiano. You can find the recipe below or watch our video!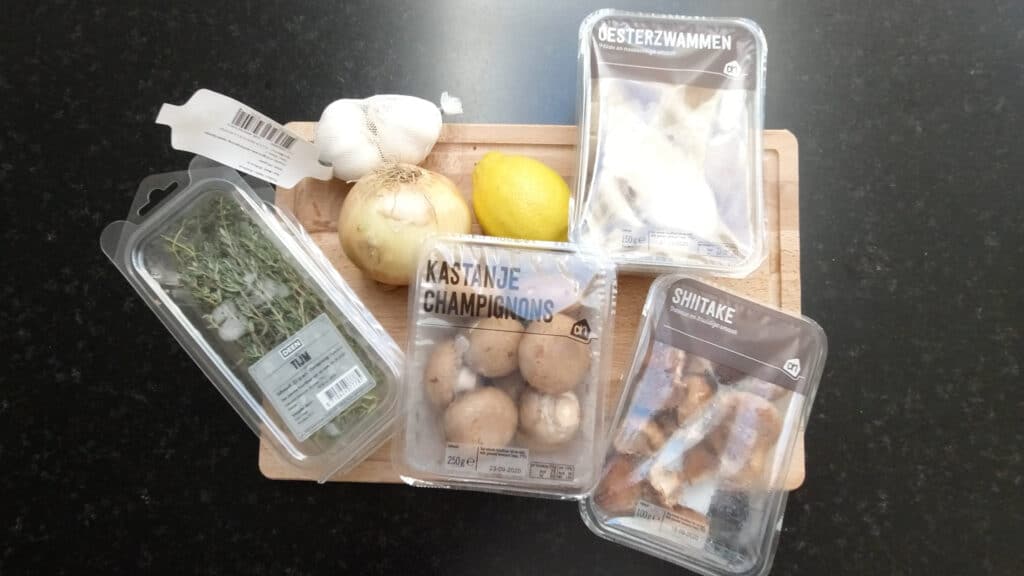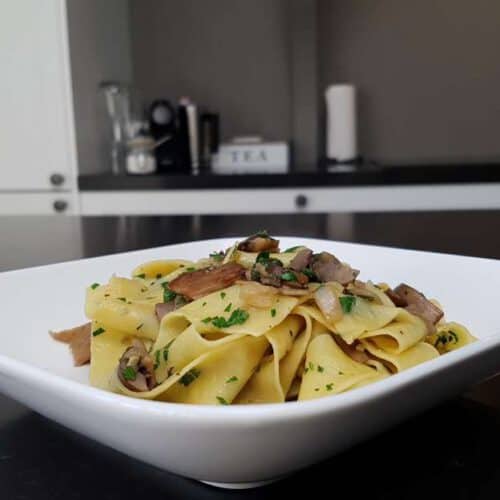 Pappardelle ai Funghi
The best Pappardelle ai Funghi recipe you can find! The preparation and cooking will take 40 minutes, but the result is fantastic! Enjoy!
Ingredients
250

grams

Chestnut Mushrooms

100

grams

Shiitake

150

grams

Oyster Mushrooms

120

ml

White Wine

300

grams

Pappardelle

25

grams

Parsley

15

grams

Thym

2

gloves

Garlic

30

grams

Parmigiano Reggiano

1

Onion

1

Lemon

Salt

Olive Oil
Instructions
Start with chopping an union into small pieces. Put the sliced union in a bowl and set aside.

Cut 2 Garlic cloves in thin slices. Put the garlic in a bowl and set aside

Start cutting the Mushrooms (Chestnut, Shittake, Oyster Mushrooms) into pieces and set aside.

At last cut 25 grams of parsley into small pieces and 15 grams of thyme in small pieces. Put them into separate bowls.

It's time for the cooking part. Take a cooking pan on high heat and add some olive oil.

Add the unions. When the unions are turning golden brown you add all your sliced mushrooms.

Cook the mushrooms for 5 minutes on high heat with the lid on. After 5 minutes lower the heat to medium heat and let it summer for 10 minutes with the lid on.

Add 120 ml of white wine to the pan. Add salt, thyme and black pepper and mix it together.

Let it simmer for another 5 minutes on low heat.

Put water in a saucepan and add some salt. When the water boils add 300 grams of pappardelle. Cook the pappardelle for 8 till 10 minutes.

When the pappardelle are cooked at the pappardelle to the sauce.

Add the juice of half a lemon to the sauce and add the chopped parsley and thyme. Mix everything together and cook the pasta for 1 minute.

Add some Parmigiano Reggiano on top of the Pappardelle ai Funghi. Ready to eat!
Video
Nutrition
Calories:
402
kcal
Carbohydrates:
68
g
Protein:
18
g
Fat:
6
g
Saturated Fat:
2
g
Cholesterol:
68
mg
Sodium:
156
mg
Potassium:
853
mg
Fiber:
6
g
Sugar:
6
g
Vitamin A:
828
IU
Vitamin C:
31
mg
Calcium:
166
mg
Iron:
4
mg

FAQ Pappardelle ai Funghi
Below you can find the most frequently asked questions:
What is Pappardelle ai Funghi?
An Italian pasta in with long wide ribbons of pasta and several different mushroom types. This pasta can be seen as a vegetarian pasta.
Which mushrooms do I need?
I prefer Chestnut, Shiitake and Oyster Mushrooms. If you want to add more that's your choice!