You know by now if you are a regular visitor that I love Desserts. A Lemon Pound Cake, Tiramisu, Crème brûlée or a Lava Cake. The dessert is the final dish in restaurant. It has to be spectacular. In the end you remember the first dish and the last dish the best. The dessert is the end. An example of a dessert is a million shortbread. It is amazing to make and the taste is fantastic. In this article, we'll take a closer look at how to make a Millionaire's Shortbread.
What is the definition of Millionaire's Shortbread
The meaning of Millionaire's Shortbread is:
"A Millionaire's Shortbread is also known as a caramel shortbread, caramel shortcake or caramel squares. The shortbread is a biscuit with a layer of caramel and milk chocolate".
History Caramel Shortbread
The caramel shortbread consists of three parts: a biscuit layer. That's the first layer. On top of the first layer you will have the most amazing caramel layer. The last layer is chocolate. The first recipe of the caramel shortbread is from the 1970. The recipe appeared in Australia in the 1970s and had a different name. The dish is also known as caramel slice. The name as we know it: millionaires shortbread originated from Scotland. This delicacy has become very popular in the last few years. Its popularity arose after a major TV program. In 2018 the slice was featured in America's Test Kitchen. After this broadcast, this amazing dish appeared on major YouTube channels. And with a good reason: it's so good!
Ingredients for Millionaire's Shortbread
To make this dessert you need a couple of ingredients. The ingredients are: brown bastard sugar, unsalted butter, flour, white sugar, heavy cream, salt, condensed milk and dark chocolate. You can find the recipe below or watch our video!
I had every ingredient ready and I was making the shortbread. After a couple of minutes I came to the conclusion that I needed a double batch of everything. All the video's have a square baking pan. I used a round shape of 30 cm. A normal size cake form.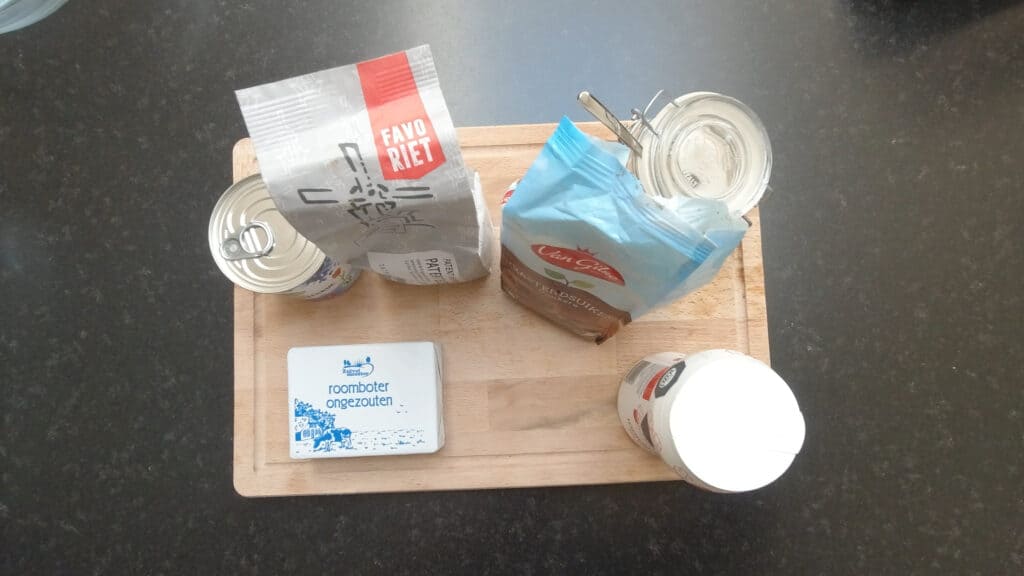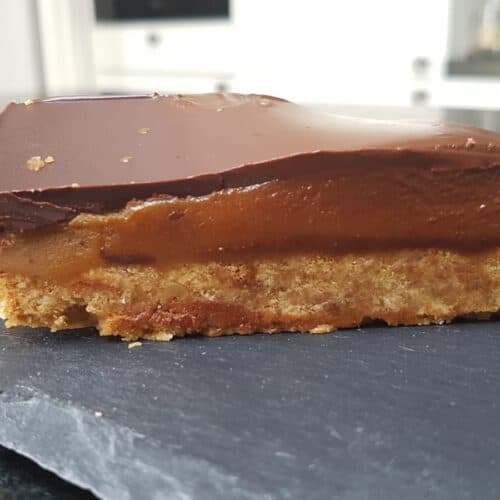 Millionaire's Shortbread
The best Millionaire's Shortbread recipe you can find! I have used a round tray shape (30 cm), but you can also use a square one. This recipe is amazing you need to try it. Enjoy!
Equipment
Bowl

Saucepan

Round or square tray shape

Spatula
Ingrediënten
200

grams

Brown Bastard Sugar

500

grams

Unsalted Butter

300

grams

Flour

15

grams

Salt

100

grams

Granulated Sugar

100

grams

Heavy Cream

10

grams

Salt

(If you don't like salt caramel 5 gram is enough)

400

ml

Condensed Milk

15

grams

Corn Syrup

300

grams

Dark Chocolate
Instructies
Measure 100 grams of brown sugar and add this in a bowl.

Measure 200 grams of unsalted butter and put this in a saucepan on medium heat.

When the butter is completely melted add this to the bowl with brown sugar. Stir everything together.

Measure 300 grams of flour and 15 grams of salt. Add the salt and the flour to the mix. Use a spatula to make mix everything well.

Get a baking pan and add baking paper as an underlay. Grease the baking pan with unsalted butter. Add the dough evenly to the baking pan.

Poke holes in dough en preheat the oven at 160 degrees Celsius.

Bake the dough for 25-30 minutes. Let it cool for two hours.

To make the caramel grab a saucepan and add 300 grams of unsalted butter, 100 grams of white sugar, 100 grams of brown sugar, 15 gram of salt, 100 grams of heavy cream, 400 ml condensed milk and 15 grams of corn syrup.

Whisk everything together (medium heat) for about 15 minutes. The perfect caramel reached a temperature of 113 degrees Celsius.

Take the caramel of the heat and pour it on the biscuit layer. Let the caramel cool completely.

Measure 300 grams of chocolate and melt it au bain marie.

When the chocolate is smooth pour the mixture on the caramel layer. Smooth everything so that it becomes even.

Let the million shortbread cool in the fridge until the chocolate is solid. You made yourself a delicious dessert!
Notities
When you have poured the caramel layer on the biscuit, let the caramel become cold. When the chocolate goes on top of the caramel you need to put it in the fridge for a few hours. Make sure the chocolate has become completely cold.
Nutrition
Calories:
1066
kcal
Carbohydrates:
87
g
Protein:
12
g
Fat:
76
g
Saturated Fat:
47
g
Cholesterol:
170
mg
Sodium:
1296
mg
Potassium:
518
mg
Fiber:
5
g
Sugar:
50
g
Vitamin A:
1894
IU
Vitamin C:
1
mg
Calcium:
198
mg
Iron:
6
mg
Heb je dit recept als eens geprobeerd?
Let us know how it was!
FAQ Millionaire's Shortbread
Below you can find the most frequently asked questions:
What is Millionaire's Shortbread?
A Millionaire's Shortbread is also familiar as a caramel shortbread, caramel shortcake or caramel squares. The shortbread is a biscuit with a layer of caramel and milk chocolate
Which chocolate do I need?
I prefer Dark Chocolate, but you can also use milk chocolate.