By now you know that I am a lover of desserts. It doesn't always have to be something with chocolate like Lava Cake or Chocolate Mousse. I also really appreciate a good pie. One of my most favorite pie is an Apple Pie. I have a great recipe for a Layered Apple Pie. In this article, we'll take a closer look How to make Layered Apple Pie!
What is the definition of Layered Apple Pie
The meaning of Layered Apple Pie is:
"A pie with a filling of layers with apples, you serve it with ice cream or whipped cream".
About Layered Apple Pie
The apple pie is a simple dessert where the ingredients consist of dough and apples. You can also add currants and raisins yourself, but that won't happen in this recipe either. The apple pie can be eaten hot or cold, the best is when it is still a little warm. Then you serve it with a scoop of ice cream. Depending on which country you live in, you will also use other apples.
An apple pie can have different recipes in each countries. There are various differences between a British Apple Pie, a Dutch Appeltaart and a French Tarte Aux Pommes. In the Netherlands they have two options for the dough:
Sand Dough (Short crust pastry)
Cake Batter
In the second option you don't need to knead the dough. You can make the dough by mixing flour with butter, sugar and eggs.
History Apple Pie
The first recipe found for an apple pie is from 1381. This recipe is considered the first apple pie recipe in the world. This recipe contains the following ingredients: apples, spices, figs, raisins and pears. To give the filling a color they use Saffron. The English version of Apple pie often consists of the Bramley apple with a shortcrust pastry on the top.
The Dutch apple pie is slightly different. It consists of a filling of small slices of apple, currants, raisins, lemon juice, rum and / or cinnamon. The top consists of dough strips that are laid out as a grid / lattice. By creating the grid you get a nice effect, but the fill is also visible. The crust is often harder and crunchy. If you notice when eating a Dutch apple pie that the crust is not hard and crispy, then you can be sure that it is not fresh. The first Dutch recipe for apple pie was written in 1514. Besides the dough and apples, a number of spices were also added. These spices were cardamom, ginger, cinnamon, nutmeg, cloves, mace and powdered sugar.
The traditional Dutch apple pie have two options:
Apple crumble cake (Appelkruimeltaart)
Lattice pie (Normal Appeltaart)
Both recipes consist of Cinnamon and lemon. Adding cinnamon to the apples gives the pie a real nice boost. The two cakes differ in texture, but the taste is the same. The cake is part of Dutch culture. Its's often eaten at a birthday or when people are drinking coffee as a side snack. It's then served with coffee or tea when you are visiting the birthday boy. Whipped cream often comes on top of the cake.
French Style
A third choice is the French style of this cake. This one differs from the other pies in that the cake is the other way around, also known as Tarte Tatin with apples. The fruit is on top instead of the dough. Because the fruit is on top it's getting caramelized. Really nice to try! It's time to tell you the ingredients for my recipe!
Layered Pie Recipe Ingredients
To make this fantastic dessert you need the following ingredients: eggs, sugar, milk, butter, flour, apples, baking powder, lemon and salt. You can find the recipe below or watch the cooking video on YouTube!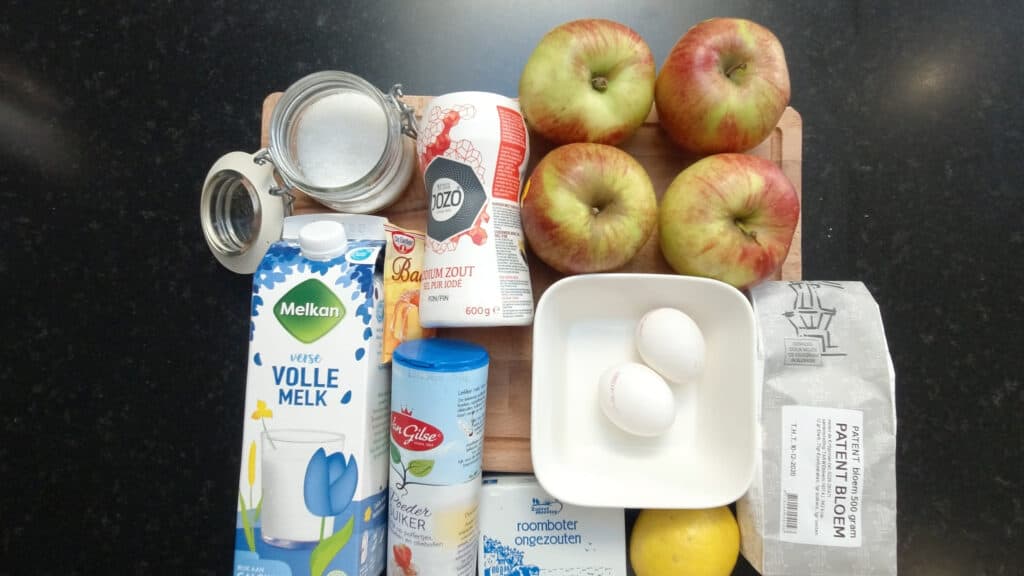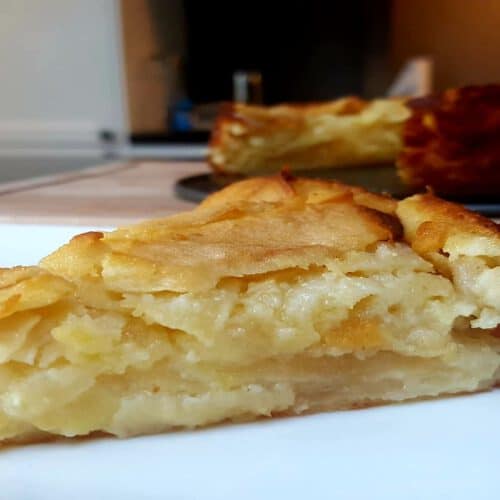 Layered Apple Pie
This is the best Layered Apple Pie recipe. Follow the steps below and you will make the perfect Layered Apple Pie! Enjoy!
Ingrediënten
2

Eggs

50

grams

Sugar

100

ml

Milk

40

grams

Butter

80

grams

Flour

4

Apples

4

grams

Baking Powder

Lemon

Salt
Instructies
The first step is to add 50 grams of sugar and a pinch of salt to the bowl.

Add 2 eggs and mix it together.

Add half a lemon peel, 25 grams of melted butter and 100 ml of milk. Mix everything together.

Peel four apples and preheat the oven to 180 degrees Celsius.

Peel the apples very thin. Add the thin sliced apples to a mixing bowl and add the juice from half the lemon.

Add 4 grams of baking powder to the wet mixture. Mix everything and when the baking powder is collaborated add the very thin sliced apples to the mixture.

Add the mixture in a greased baking tin. Level the cake evenly. Add 15 grams of melted butter on top.

Bake the cake for 55-60 minutes at 180 degrees Celsius.

After baking let the cake cool for at least 20 minutes.
Nutrition
Calories:
167
kcal
Carbohydrates:
27
g
Protein:
3
g
Fat:
6
g
Saturated Fat:
3
g
Cholesterol:
53
mg
Sodium:
111
mg
Potassium:
140
mg
Fiber:
2
g
Sugar:
16
g
Vitamin A:
254
IU
Vitamin C:
4
mg
Calcium:
57
mg
Iron:
1
mg
Heb je dit recept als eens geprobeerd?
Let us know how it was!
FAQ How to make Layered Apple Pie
Below you can find the most frequently asked questions:
What is a Layered Apple Pie?
Just like the name says: an Apple Pie with layers of apples.
What ingredients do I need?
You need the following ingredients: eggs, sugar, milk, butter, flour, apples, baking powder, lemon and salt.
How long does it take to make?
The preparation will take around 20 minutes. The total cook time is 60 minutes. After the 60 minutes let the Apple Pie rest for 20 minutes. The total time will be 100 minutes.