Actually, I'm not very into the sweet stuff. With sweet stuff I mean candy. I would rarely pick up some candy on my own, such as snickers, mars a bounty or something similar. I often only take cookies when I have made them myself. One of the things I could eat as candy is Marzipan. In this article, we'll take a closer look at how to make Marzipan.
What is the definition of Marzipan
The meaning of Marzipan is:
"Marzipan is a doughy mixture that consist of ground almonds in combination with sugar. It is used to decorate cakes and pastries".
Marzipan
So it is a doughy mixture consisting of ground almonds and sugar. It is often used for decoration. You often see cakes with a layer of marzipan. This layer can have different colors. All you have to do is add food coloring to the dough. In several countries this dough is also used to make figures, like the Netherlands & Belgium.
Marzipan may be a popular snack in these countries, but it did not originate in the Netherlands or Belgium. It was brought to Europe from the Middle East. In the Netherlands it has been a popular commodity since 1700. At that time there was a holiday whereby boys gave girls a piece of marzipan. This was the sign that they liked the girl. You can compare this to today's Valentine's Day where you may have written a letter or card to your friend / girlfriend. Nowadays things are of course different and you send this person a Snapchat or message via Whatsapp.
Marzipan is made differently everywhere. Yet there are some rules within the European Union. Marzipan must consist of at least 14% almond oil. And it should not contain more than 8.5% moisture. Yet there is not really a guideline exactly what marzipan should consist of. Because of this you may have noticed that there can be quite a difference in the quality.
You can also use white bean flour instead of almonds. This is of course not the real way to make it, but it is possible. To get the right substance, the ratio of two parts almonds and three parts sugar is often used. You can also make marzipan in two different ways.
Making Marzipan two ways
You can come across many different recipes for making marzipan. Yet, you really only have two methods. These two methods are also called the cold and warm method.
Cold method
In the cold method, the almond paste and sugar are mixed together. This is done without adding heat to the mixture. The substance is crushed during this process. This will form marzipan. Of course, each method has its advantages and disadvantages. The advantage of this method is that you get the best quality. I also prefer this. The disadvantage you have is that the marzipan does not have a long shelf life.
Warm method
The second method is of course the warm method. This is often the marzipan that is made, which is available at supermarkets. The boiler is heated during this process. Because it's made with heat, it has a longer shelf life.
To make Marzipan you need to follow these steps:
Peel the almonds
Grind the almonds
Add the powdered sugar, almond extract and water
Keep mixing until you get a nice dough
Take the dough out of the food processor
Make a shape of the dough, wrap it in plastic and let it rest overnight
Storage of Marzipan
When making this dessert you will use the cold method. This method therefore has the disadvantage that the dough has a shorter shelf life. Actually, two things can happen to the dough. The first is that it dries out and the second is that it hardens. To increase the time of the snack you need to put it in a cold and dark place. You can place it in a seal able bag or a container with a lid.
Marzipan Ingredients
To make this fantastic dessert you need a couple of ingredients. These ingredients are: raw unpeeled almonds, powdered sugar, water, almond extract. Option are rose water or orange blossom water. You can find the recipe below. If you are interested in cooking videos you can watch my YouTube Channel!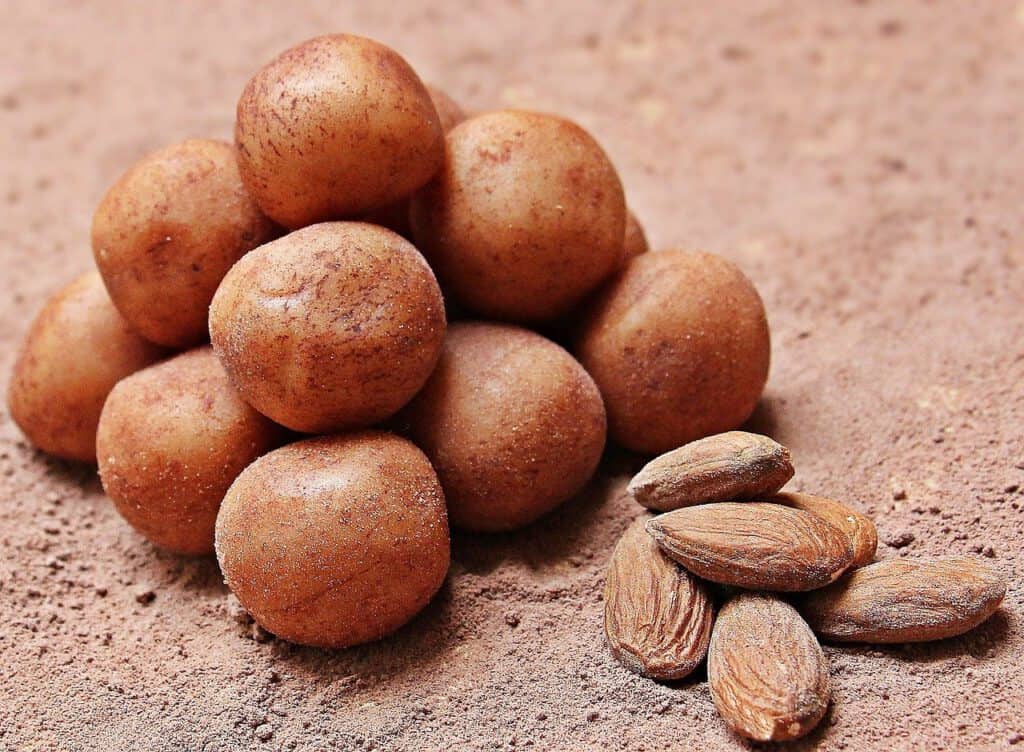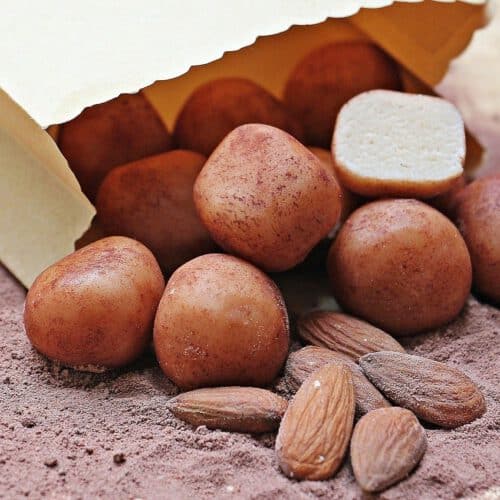 Marzipan
An easy dessert: Marzipan. You only need 3 ingredients! This recipe is so easy and tasteful. Enjoy!
Ingredients
130

grams

Almonds

(Unpeeled)

140

grams

Powdered Sugar

1

ml

Almond extract

14

ml

Water
Instructions
The first step is to peel the almonds if you haven't unpeeled almonds. The best way is to add the almonds to a bowl with hot water. Let the almonds sit for a minute of 15. You notice you can remove the skin very easily.

After the 15 minutes take the almonds out, peel them and dry them with a towel.

The next step is to get your food processor in place. It's time to mix the almonds until finely ground.

When the almonds are finely ground add the powdered sugar, almond extract and the water. Mix everything together.

The dough is ready. When you notice it's still crumbly add a little bit of water and keep mixing. Use a spatula to remove the dough.

Turn the dough in a shape, wrap it in plastic and let it rest overnight.
Nutrition
Calories:
216
kcal
Carbohydrates:
28
g
Protein:
5
g
Fat:
11
g
Saturated Fat:
1
g
Sodium:
1
mg
Potassium:
153
mg
Fiber:
3
g
Sugar:
24
g
Calcium:
57
mg
Iron:
1
mg
FAQ Marzipan
Below you can find the most frequently asked questions:
What is Marzipan?
It's a doughy mixture that consist of ground almonds in combination with sugar. It is used to decorate cakes and pastries.
Which ingredients do I need?
You need the following ingredients: almonds, powdered sugar and almond extract.
How long does it take to make?
The total time with peeling and grinding is 25 minutes. After you have formed the dough, you need to put it in the fridge. I recommend to do this overnight. So it will take you 8 more hours.