Today a new dessert which is so amazing! No mousse this time, but cake in a mug. The last recipe in a mug was Chocolate Cake. An amazing dessert, but I dare to say that this dessert is even better. It has a combination of apples and cinnamon. Serve this dessert with ice cream on the top and it will blow everyone's mind! In this article, we'll take a closer look at how to make Apple Mug Cake.
What is the definition of Apple Mug Cake
The meaning of apple mug cake is:
"It's a small apple pie. You don't use a cake mold but a mug. You only need a couple of ingredients, a mug and a microwave".
Apple Mug Cake
One of my favorite pies is Apple Pie. Earlier I wrote a recipe about this, in which the apples provide the different layers, as it were. Also called layered apple pie. My fascination for apple pies comes from the past. My dad made the best apple pies every birthday. He also paid a lot of attention to cutting each apple cube the same size. In addition, it had a crispy crust and plenty of cinnamon. The best part was when it just came out of the oven. A warm apple pie with a layer of whipped cream on top. This thought alone makes me want this apple pie so bad!
If you don't have the time to make a whole apple pie, then the apple mug cake or apple pie mug cake is the best solution. You can make these as a snack, but also serve as a dessert. This recipe does not contain an egg, but you can always add it if you want. The result of my recipe is an amazing apple cake.
If you don't know what to serve or if you don't want to have too much work, this is the dessert for you. I really recommend you try this recipe! Let us know what you think in the comments below! Or leave a comment on my YouTube Channel! I will appreciate that too!
Best Apple Mug Cake
Why is this the best Apple Mug Cake recipe:
No eggs
The taste and smell of Cinnamon
Melted Ice cream on top
Only 1 minute in the microwave
This recipe has some secrets and I will share it with you. The first secret is that you need to put on top is ice cream. The cold ice cream will start melting on the warm apples. The second secret is to use cinnamon. The combination of cinnamon and warm apples is the best combination in the world. It gives this dessert the best possible taste. For this recipe I don't use eggs. Below you can find the ingredients.
Apple Mug Cake Ingredients
To make this fantastic dessert you need a couple of ingredients. These ingredients are: all purpose flour, brown sugar, milk, baking soda, apples, vanilla extract and cinnamon. For the topping i use some ice cream. You can find the recipe below or watch the cooking video on my YouTube Channel!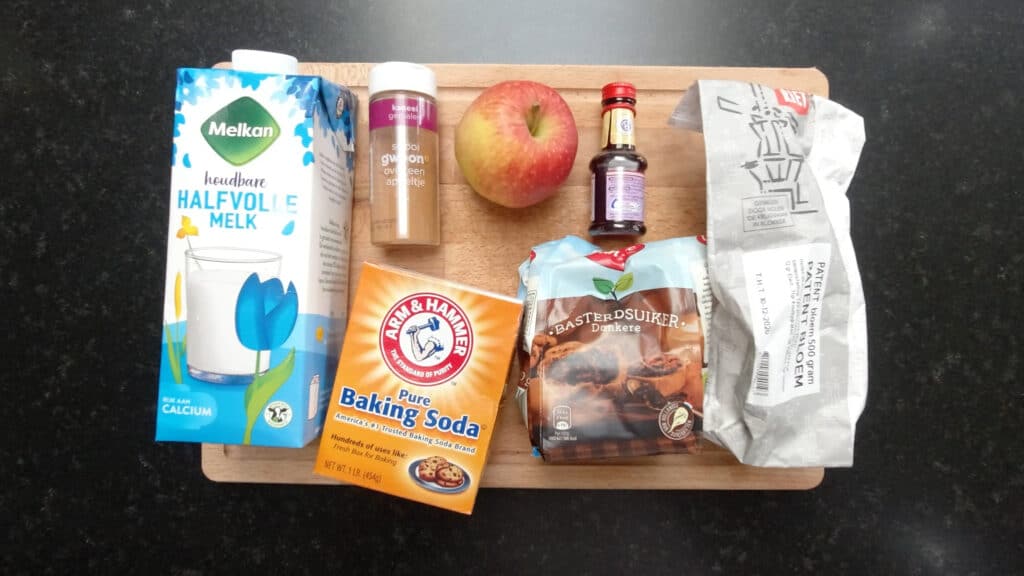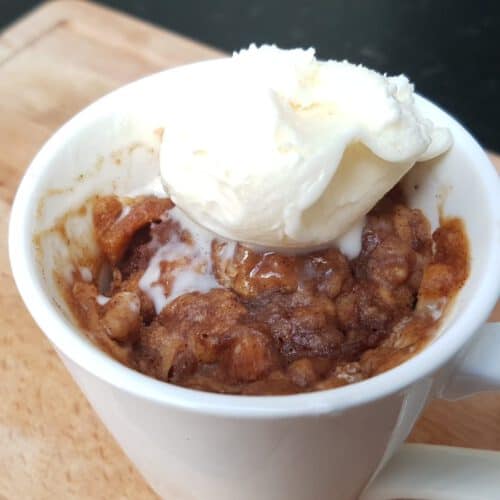 Apple Mug Cake
An easy dessert: Apple Mug Cake or also called Apple Pie Mug Cake. Within 5 minutes preparation and 1 minute in the Microwave you can enjoy this amazing Apple Mug Cake. This recipe is easy and so tasteful! Enjoy this dish!
Ingredients
25

grams

Apples

21

grams

Brown Sugar

6

grams

Cinnamon

45

grams

All purpose flour

15

grams

Unsalted Butter

30

ml

Milk

4

ml

Vanilla Extract

4

grams

Baking Powder

Ice Cream
Instructions
Start by chopping 25 grams of apples into small pieces. Put the small pieces of apple in a mug.

Add 6 grams of cinnamon and 6 grams of brown sugar. Mix everything.

Microwave the mug for 30 seconds (1000W).

Add 15 grams of melted butter, 30 ml of milk, 15 grams of brown bastard sugar, add 4 ml of vanilla extract, 4 grams of baking powder and 45 grams of all purpose flour. Mix everything.

Microwave the mug for 1 minute (1000W).

Add a scoop of ice cream on top.
Video
Nutrition
Calories:
411
kcal
Carbohydrates:
66
g
Protein:
6
g
Fat:
14
g
Saturated Fat:
8
g
Cholesterol:
35
mg
Sodium:
552
mg
Potassium:
88
mg
Fiber:
5
g
Sugar:
25
g
Vitamin A:
375
IU
Vitamin C:
1
mg
Calcium:
346
mg
Iron:
3
mg
FAQ Apple Mug Cake
Below you can find the most frequently asked questions:
What is Apple Mug Cake?
It's a small apple pie. You don't use a cake mold but a mug. You only need a couple of ingredients, a mug and a microwave.
How long does it take to make?
The preparation for the recipe is 5 minutes. You need to put the mug in the microwave for 1 minute.
Which ingredients do I need for this recipe?
The ingredients for this recipe are: apples, brown sugar, cinnamon powder, all purpose flour, unsalted butter, milk, vanilla extract and baking powder. For the topping I use ice cream