I'm a dessert lover. I really can't help it. When I was younger I really loved ice cream. After eating a lot of food, there was always some space left for the best meal of the day: dessert. Even now, a couple of years later, i'm not changed at all. I wonder myself about the different desserts that are available in the world. And these don't have to be difficult to make either. One I mentioned earlier was the Chocolate Mousse and Mango Mousse. Today a recipe that looks a lot like this, only this time with a different fruit. In this article, we'll take a closer look at how to make Strawberry Mousse.
What is the definition of Strawberry Mousse
The meaning of Strawberry Mousse is:
"A strawberry mousse is a dessert that contains of strawberries, sugar and whipping cream. By mixing the whipping cream you get air bubbles that provide the airy and light texture. The mousse can be light, but also thick and creamy".
Strawberry Mousse
A dessert can have several options. You may be amazed by the flavors from sweet to sour, as well as different textures. A mousse is such a dessert that may surprise you. The texture is so light and can also contain so much flavor. You don't need many ingredients for a mousse either. Although you need few ingredients, you have to do everything right.
The most important thing is to whip the whipping cream until you see soft peaks. Then it is a matter of mixing the strawberry puree with the whipping cream. You can do this carefully with a spatula. After this, it's time to fill the glasses and cool them. I recommend for a minimum of 30 minutes. Do you need the dessert a few hours later? No problem, you can just put them in the fridge. This can result in that the mousse becomes a little thicker, depending on the temperature of the refrigerator.
You finish this dish by adding some fresh strawberries in pieces at the top. Below the steps briefly explained:
Wash and cut the strawberries
Add the strawberries and sugar in the blender and start mixing
If you get a nice puree stop mixing
Grab a bowl and add the whipping cream and Start mixing until you get soft peaks.
When you have soft peaks add the strawberry puree and mix it together.
Add the mixture in a glass, cool it for a minimum of 30 minutes. After the 30 minutes enjoy your mousse!
Mango Mousse Ingredients
To make this fantastic dessert you need a couple of ingredients. These ingredients are:
strawberries, sugar and whipping cream. For the topping you can use some fresh strawberries. You can find the recipe below. If you are interested in cooking videos you can watch my YouTube Channel!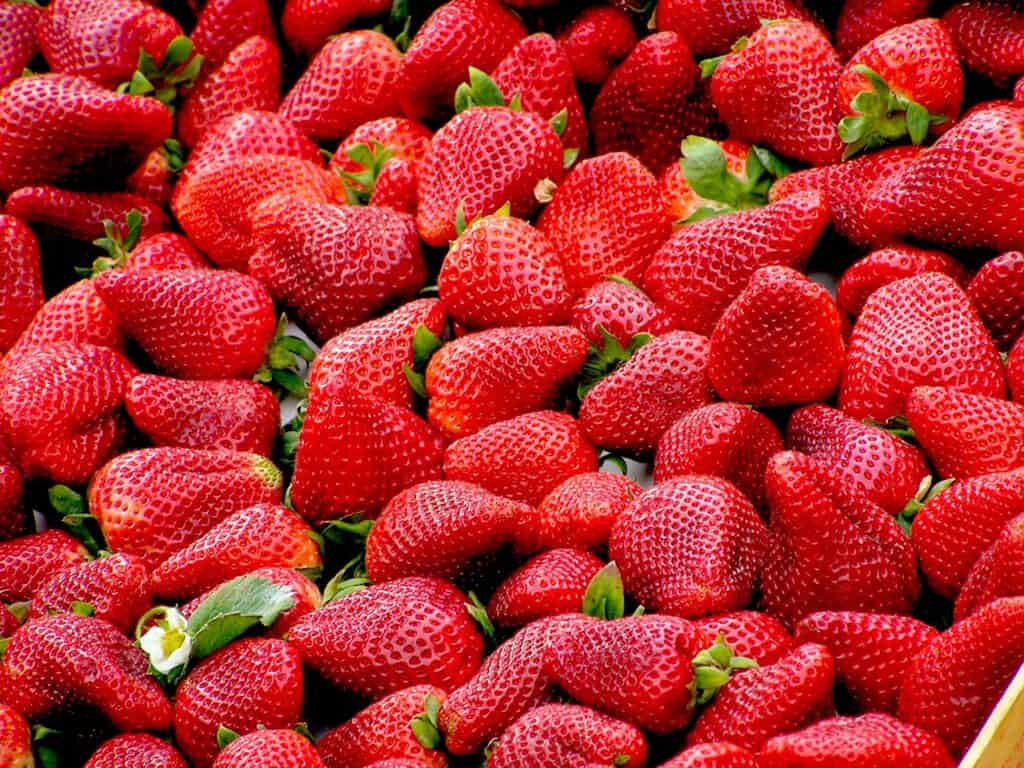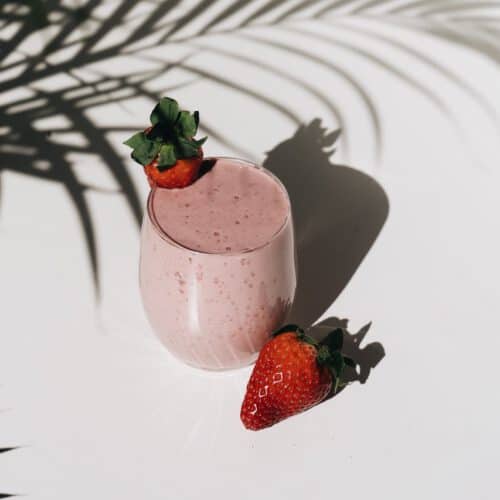 Strawberry Mousse
An easy fruity dessert: Strawberry Mousse. You only need 3 ingredients! This recipe is so easy and tasteful. Enjoy!
Ingredients
150

grams

Strawberries

60

grams

Granulated Sugar

240

grams

Whipping Cream

40

grams

Strawberries

(For the topping)
Instructions
The first step is to wash the strawberries and cut them in smaller pieces.

Add the strawberries to the blender with the granulated sugar and start mixing.

When the substance is a puree you can stop mixing.

Add the whipping cream in a bowl and start mixing until you get soft peaks.

Mix the strawberry puree with the whipping cream.

Add the mixture to the glasses and put the glasses in the refrigerator for a minimum of 30 minutes.

Serve the Strawberry mousse with some fresh strawberries on top!
Notes
If you want to use more sugar for this recipe, this is possible. I would recommend a maximum of 90 grams of sugar.
You can also keep the mousse longer in the fridge. I recommend at least 30 minutes, but of course a few hours is also possible.
Nutrition
Calories:
280
kcal
Carbohydrates:
20
g
Protein:
2
g
Fat:
22
g
Saturated Fat:
14
g
Cholesterol:
82
mg
Sodium:
23
mg
Potassium:
118
mg
Fiber:
1
g
Sugar:
17
g
Vitamin A:
882
IU
Vitamin C:
28
mg
Calcium:
45
mg
Iron:
1
mg
FAQ Strawberry Mousse
Below you can find the most frequently asked questions:
What is Strawberry Mousse?
It's a mousse based on three ingredients: strawberries, whipping cream and sugar.
Which ingredients do I need?
You need the following ingredients: strawberries whipping cream and granulated sugar.
How long does it take to make?
The total time with preparation and refrigerator is 45 minutes. I recommend to put the mousse at least 30 minutes in the refrigerator. It's also possible to increase this. Overnight is also an option.