My weekend really starts when I have been at the poulterer. I dare say I like everything that is in the store. I come there every Saturday and usually get the usual stuff. Or usual for me anyway. It consists of Chinese chicken strips and grilled sausage. We call it "Grilworst" in the Netherlands. A few times I saw something that had caught my attention every time. I hadn't bought it, but this weekend I couldn't ignore it: Chicken Wings. In this article, we'll take a closer look at how to make Air Fryer Chicken Wings.
What is the definition of Air Fryer Chicken Wings
The meaning of air fryer chicken wings is:
"Chicken wings that are made within the Air Fryer to get a nice crispy skin with an amazing glaze. You need a couple of ingredients and an air fryer"
Air Fryer Chicken Wings
I have to be honest with you guys, I really was an Air Fryer hater. A few years ago, this device became increasingly popular and especially now it seems as if everyone has it at home. I didn't want to get started because I didn't know what to do with it exactly. My girlfriend used it at home to make sandwiches, for "bitterballen" and pizzas. I had the usual argument that you can also prepare bread and pizzas in an oven. And when you want to fry something, you need a deep fryer and not something with warm air.
During the years I discovered more and more that you can actually do a lot with this device. Chicken Wings are an example of this, but also sweet potato and salmon can you bake in the air fryer. What I have to say quickly is that you often have recipes with the air fryer that indicate that you must have a temperature of 200 degrees celcius. It is possible that the air fryer will smoke at this temperature. Therefore I always make sure that I set it to 180 degrees celcius and then bake it a  few minutes longer. It is important that you ensure that the air fryer is always properly preheated, just with an oven. Depending of course if it is indicated in the recipe.
Best Air Fryer Chicken Wings
These are the best chicken wings. There is no doubt about that. You will probably wonder why these are the best chicken wings. Let me explain quickly.
Crispy layer
You can also bake chicken wings in an oven. Only with an air fryer you will get the most crispy layer.
Honey Glaze


Even though it's optional, a honey glaze with chicken wings is the best combination there is.

If you don't have dirty hands after eating your chicken wings, you haven't eaten them properly.

Garlic Powder


Chicken wings must contain garlic.

This gives so much flavor to this little snack!
If you are not yet convinced, then you really have to make it. I'm sure you'll be convinced and never want it any other way. In 30 minutes you have a portion of great chicken wings with a honey glaze! If you want to make the glaze a bit hotter, you can always add chili flakes. 
Air Fryer Chicken Wings Ingredients
To make this fantastic snack you need a couple of ingredients. These ingredients are: chicken wings, olive oil, salt, pepper, garlic powder and honey. For the topping you can use a sauce glaze. You can find the recipe below! Interested in cooking videos? Watch my YouTube Channel!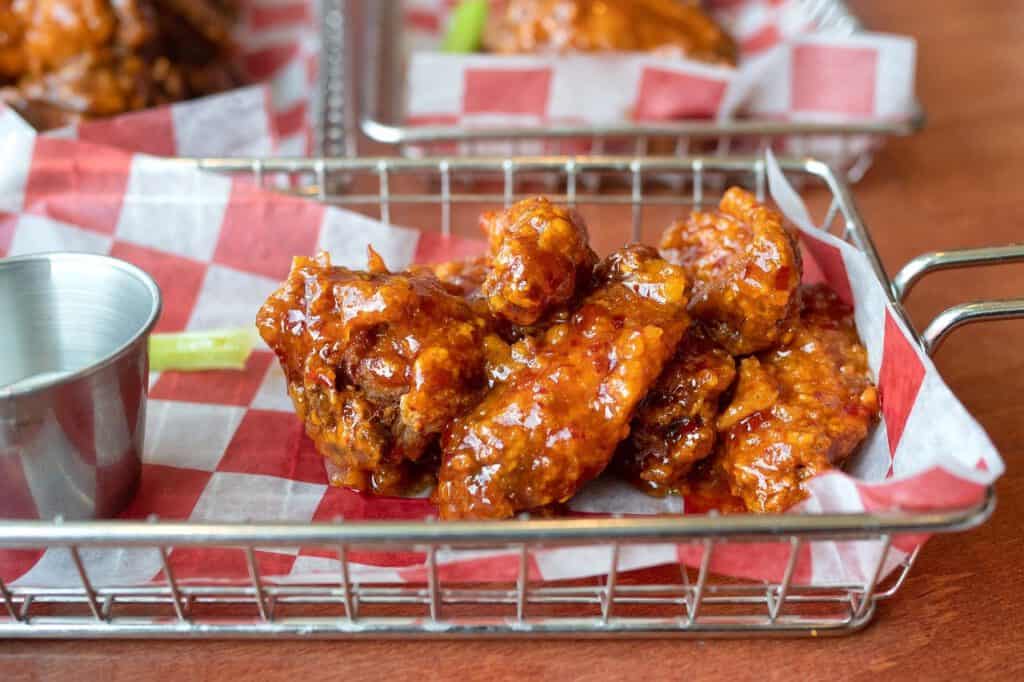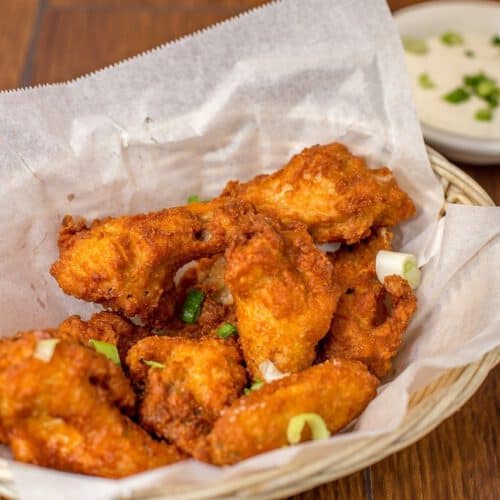 Air Fryer Chicken Wings
An easy little snack: Air Fryer Chicken Wings. Within 30 minutes you van enjoy from the most amazing Chicken Wings made in the Air Fryer. This recipe is easy and so tasteful! Enjoy this dish!
Ingredients
1

kg

Chicken Wings

30

ml

Olive Oil

5

grams

Paprika

5

grams

Garlic Powder

Salt

Pepper

20

grams

Honey

(Optional)
Instructions
The first step is to preheat your air fryer to 180 degrees celcius.

Grab a bowl and put in the chicken wings.

Add the olive oil, paprika powder, garlic powder, pepper, salt and optional the honey. Mix everything together.

Spray the basket of the air fryer with cooking spray, you can also use butter or other oil.

Put a couple of chicken wings in the basket. Make sure they have enough space.

Cook them for 15-18 minutes. You have the option to increase the temperature the last 2-3 minutes. To get a crispy outside.

After the cooking time, let them rest for 2 minutes and add another batch! Enjoy this amazing honey glazed Chicken Wings!
Nutrition
Calories:
386
kcal
Carbohydrates:
5
g
Protein:
25
g
Fat:
29
g
Saturated Fat:
7
g
Trans Fat:
1
g
Cholesterol:
104
mg
Sodium:
100
mg
Potassium:
231
mg
Fiber:
1
g
Sugar:
4
g
Vitamin A:
238
IU
Vitamin C:
3
mg
Calcium:
18
mg
Iron:
1
mg
FAQ Air Fryer Chicken Wings
Below you can find the most frequently asked questions:
What are Air Fryer Chicken Wings?
Chicken wings that are made within the Airfryer to get a nice crispy skin with an amazing glaze.
How long does it take to make?
The preparation for the recipe is 10 minutes. You need to put the mug in the air fryer for 18 minutes and let them rest for 2 minutes. The 10 minutes preparation time, make sure that all the flavors have the time to get soaked in the meat.
Which ingredients do I need for this recipe?
The ingredients for this recipe are: chicken wings, olive oil, salt, pepper, garlic powder and honey