The year 2020 was a year with a lot of trends. The upcoming rise of TikToks, lockdowns because of the Covid virus, but also more people are making food at home. The lockdowns have ensured that more people had to prepare their own food. Restaurants were closed. One of the trends of this year is Whipped Coffee, also known as Dalgona Coffee. In this article, we'll take a closer look at how to make Whipped Coffee.
What is the definition of Whipped Coffee
The meaning of Whipped Coffee is:
"An instant coffee with sugar and hot water that is whipped until a creamy substance. You add the substance with cold or warm milk".
Whipped Coffee
The coffee therefore consists of a combination of instant coffee, sugar and hot water. The mixing of these three ingredients has given the name of this drink. The other name you may have heard is Dalgona. This coffee is widely consumed in South Korean Cafes. Because almost the whole world went into lockdown due to the Covid virus, the South Koreans had to make the coffee themselves. The making of this coffee was filmed and posted on TikTok. After placing the video on TikTok, the video went viral. More and more people made the coffee and published it on social media channels including YouTube. Many major South Korean food channels made the coffee, so that millions of people around the world have seen the videos.
The craze will be over for a while, but making this coffee is fun and easy so I thought it's the right time for the recipe! But first we will briefly discuss how you actually make this.
Making Whipped Coffee
I've made this drink a few times and I will admit I didn't make enough the first few times. It is difficult to stir the mixture together if you haven't enough and eventually you think after 5 minutes, I should have made something extra. The ratio you can use is 1: 1: 1.
So sugar, instant coffee and water can be the same. If you use a tablespoon you will have enough for 1 glass.
This time I did not work with tablespoons, but with grams. I have chosen to use 30 grams granulated sugar, 30 grams instant coffee and 45 ml hot water. For the recipe I used more water, because the first time I had a substance that was just too thick. That could mean two things:
Stirred for too long
Too little water used
I started from the second point and had addressed the first point in my next attempt. To make this the best I recommend a bowl where you use an electric mixer. You can do it by hand. Only it really takes you a while before you get the substance right. A TikTok video shows it within 30 seconds, but don't put in the description that it took 15 minutes and you have two soured arms.
Color changing when stirring
When you are stirring, the color is quite dark at the beginning. The longer you keep stirring, the lighter the color will eventually become. Like a meringue, whipping is done when you can make a stiff point.
After mixing, fill a glass with cold or warm milk. I chose to add cold milk with some ice cubes. Then take a spoon and fill the top of the glass with the creamy mixture. The last thing to do is to give it a little stir and you can enjoy your coffee! A good breakfast drink in combination with some overnight oats or just normal oatmeal.
Whipped Coffee Ingredients
To make this fantastic coffee you just need three ingredients. These ingredients are: instant coffee, granulated sugar, hot water and milk. You can find the recipe below or watch the video on my YouTube Channel!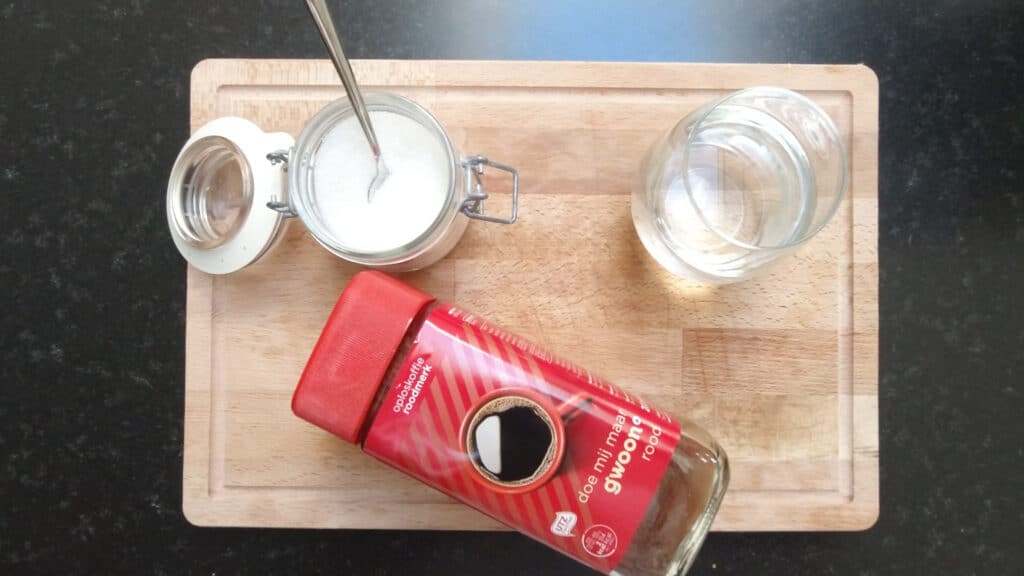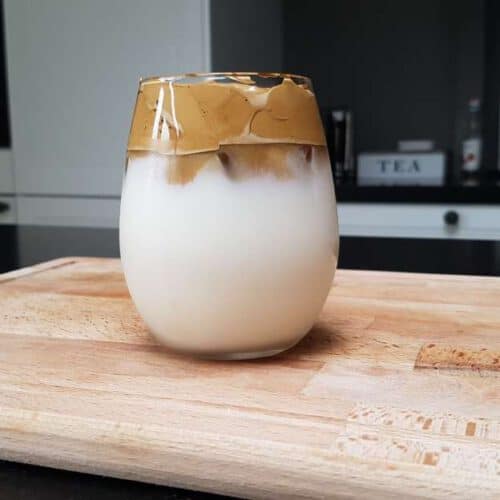 Whipped Coffee
An amazing and easy coffee to make. The best Whipped Coffee recipe in the world. Enjoy making this fantastic coffee!
Ingredients
30

grams

Granulated Sugar

30

grams

Instant Coffee

45

ml

Hot Water

250

ml

Milk

4

pieces

Ice Cubes
Instructions
The first step is to grab a bowl.

Add 30 grams of instant coffee, 30 grams of sugar and 45 ml of hot water in the bowl.

Whisk everything together until you get a creamy brown color (10-15 minutes).

Take a glass and fill the glass with milk and 4 pieces of ice cubes.

Add the creamy mixture to the glass.

Stir the mixture and you are ready to drink this amazing Whipped Coffee!
Video
Nutrition
Calories:
375
kcal
Carbohydrates:
65
g
Protein:
12
g
Fat:
8
g
Saturated Fat:
5
g
Cholesterol:
25
mg
Sodium:
119
mg
Potassium:
1391
mg
Sugar:
43
g
Vitamin A:
405
IU
Calcium:
325
mg
Iron:
1
mg
FAQ Whipped Coffee
Below you can find the most frequently asked questions:
What is Whipped Coffee?
An instant coffee with sugar and hot water that is whipped until a creamy substance. You add the substance with cold or warm milk.
Can I use also coffee beans?
No that's impossible. The only thing you can use is instant coffee.
Which ingredients do I need?
You need the following ingredients: instant coffee, granulated sugar, hot water and milk.
How long does it take to make?
To make the coffee it will take between 10 and 15 minutes.