Breakfast is the most important meal of the day. Or at least I have always been told. Not that I listened to this. My breakfast often consists of a protein shake. This for two reasons. The first reason is that I am never hungry in the morning. The second reason it's the perfect meal to get a head start for my protein intake for the day. A second option that I also appreciate is protein pancakes. These are easy to make and are also full with protein. Another meal full of protein is Sea Bream, not a breakfast meal but can help you to reach your protein level. In this article, we'll take a closer look at how to make Protein Pancakes.
What is the definition of Protein Pancakes
The meaning of Protein Pancakes are:
"Protein pancakes are pancakes full of protein, perfect for breakfast to start your day".
About Protein Pancake
Are you a fanatic sportsman or do you want to eat a little healthier? In that case this breakfast is made for you. My history with these pancakes goes back a while. Due to my background in sports, I could no longer get my protein from normal food. Especially someone who is growing needs a lot of nutrients to maintain his body. The same counts for you. The comparison I always make is: a Ferrari also consumes more than a normal family car, right? That is because the Ferrari must deliver a top level. Your body is the Ferrari and therefore you use more fuel. The pancakes provide this fuel.
Different types of Protein Pancakes
You have probably seen the Instagram photos with stacks of pancakes. On the top and on the side is fresh fruit and they top it with maple syrup. One of the amazing things is that there is a lot of variations to make the perfect combination for yourself. An couple examples are below:
Blueberry Pancakes
Strawberry Pancakes
Protein Banana Pancakes
Oatmeal Pancakes
Vegan Pancakes
This are examples that are top of my mind. I can imagine there are over 100 different flavors. With chocolate, peanut butter or other different ingredients. Do you have an addition to the above list? Let me know.
Ingredients for Protein Pancakes
To make this fantastic breakfast you need these ingredients: protein powder, milk, oats, banana, eggs, baking powder, salt and cinnamon powder. For the toppings you can use powdered sugar, chocolate sauce or maple syrup. Or if you want to keep it healthy sugar with low calories. You can find the recipe below or watch the videos on my YouTube Channel!
An important note before I tell you the steps to take. You can use protein powder, only not every protein powder reacts well. This is just try and error. Some pancakes can become really dry. Let me know how it turned out for you!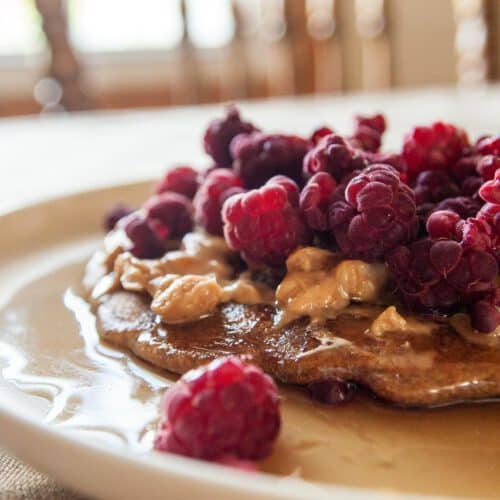 Protein Pancakes
The best Protein Pancakes recipe you can find! It takes only a couple of minutes. A perfect recipe for every home chef. Enjoy!
Equipment
Bowl

Whisk

Food Processor / Mixer

Baking Pan
Ingredients
60

grams

Oats

1

scoop

Protein Powder

(You can also choose for 2)

30

ml

Milk

1

Banana

2

Eggs

1

Pinch

Baking Powder

Cinnamon

1

Pinch

Salt
Instructions
The first step is to take your food processor or mixer and add the oats, banana, milk, protein powder, eggs, baking powder, cinnamon and salt. Start mixing on medium speed.

Put a baking pan on the stove on medium heat and add a little bit of butter.

Add the protein pancake batter in the pan. You can use a ice cream scoop or just a spoon.

When the top starts to dry it is time to flip the pancake. Bake the other side.

The moment the pancake is done add it one a plate and repeat the process. When all the pancakes are done it's time to add your topping. You can choose for Marple syrup or another topping! Enjoy your breakfast!
Notes
You have the option to add one or two scoops of protein powder. This depends on your taste. I didn't put any number by cinnamon powder. Add the cinnamon powder how you like it. It's needs to be your recipe!
Feel free to add more milk to the recipe!
Nutrition
Calories:
578
kcal
Carbohydrates:
71
g
Protein:
45
g
Fat:
15
g
Saturated Fat:
4
g
Cholesterol:
377
mg
Sodium:
235
mg
Potassium:
851
mg
Fiber:
9
g
Sugar:
17
g
Vitamin A:
631
IU
Vitamin C:
10
mg
Calcium:
190
mg
Iron:
6
mg
FAQ Protein Pancakes
Below you can find the most frequently asked questions:
What are protein pancakes?
The pancakes are full of protein, perfect for breakfast to start your day.
Which ingredients do I need for this recipe?
You need the following ingredients: protein powder, milk, oats, banana, eggs, baking powder, salt and cinnamon powder.
How long does it take to make the pancakes?
It will takes around 15 minutes. Depending how much pancakes you can make with your batter.