Breakfast is the most important time of the day to eat. I've said it once before, but I'll repeat it again. And why not start the day right by making yourself something tasty. Protein pancakes can be an option or scrambled eggs. This dish is easy to make: French Toast. In this article, we'll take a closer look at how to make French Toast.
What is the definition of French Toast
The meaning of French Toast is:
"A breakfast with slices of bread that are soaked in a combination of eggs, milk, cinnamon, sugar and vanilla extract"
About French Toast
The toast is therefore a slice of bread that is placed in a "bath" of a few ingredients. These ingredients are absorbed by the bread. Then the bread is baked in a pan. It's time to find out a little more about this history behind the dish.
The history of this dish dates back to the beginning of the 5th century. It did not yet have the name French Toast, but had a Latin name. This name was aliter dulcia. The literal translation of this is: another sweet dish. The recipe is different from what we now know. The crust was removed from the white bread. The bread was topped with milk and cracked eggs. Then the bread was fried in oil and topped with honey. Like many breakfast dishes, this dish is popular around the world. In the different countries they use different names. Other names for this dish are:
Pain Perdu
Pain doré
Golden Bread
Pafese
Pofese
Bundáskenyér
Pin Doray
Arme Riddere
Arme Ritter
Bombay Toast
Eggy Bread
Gypsy Toast
Pain Perdu
For example, different countries have different names for this dish. There are also many options for the ingredients. I have chosen for the classic approach. It's time to discuss the ingredients.
Ingredients for French Toast
To make this fantastic breakfast you need these ingredients: bread, eggs, butter, salt, cinnamon powder, vanilla extract and milk. For the toppings you can use powdered sugar, honey, jam, all sorts of fruit or maple syrup. I made the choice for powdered sugar. You can find the recipe below or watch the videos on my YouTube Channel!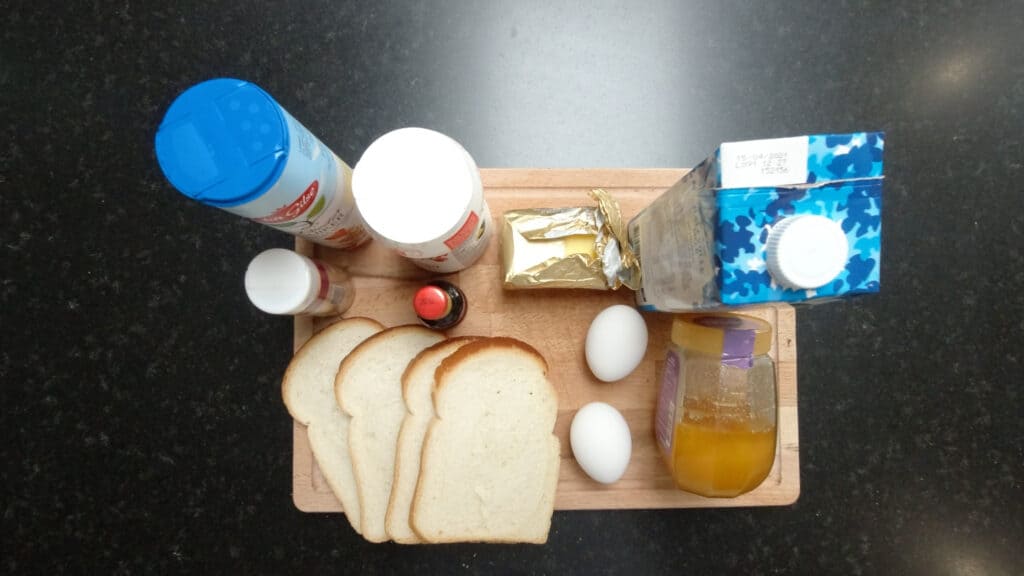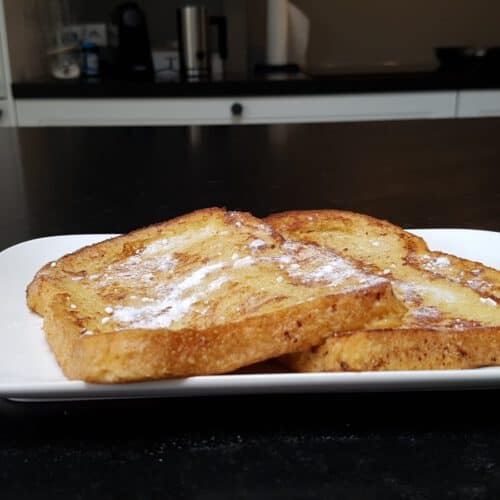 French Toast
The best French Toast recipe you can find! It takes only a couple of minutes. A perfect recipe for every home chef. Enjoy!
Ingredients
4

pieces

Bread

2

Eggs

30

grams

Butter

2,5

grams

Salt

1

gram

Cinnamon Powder

5

ml

Vanilla Extract

120

ml

Milk

Powdered Sugar
Instructions
The first step is to grab a bowl and add the eggs, salt, milk, vanilla extract and cinnamon.

Warm a baking pan and add the butter on medium heat.

Add the slices of bread in the bowl. Turn the slices and let it soak up the mixed ingredients.

Put the slices of bread in the baking pan and bake until golden brown.

The last step is to add the powdered sugar on top! Enjoy your breakfast!
Video
Nutrition
Calories:
221
kcal
Carbohydrates:
5
g
Protein:
8
g
Fat:
18
g
Saturated Fat:
10
g
Cholesterol:
202
mg
Sodium:
691
mg
Potassium:
140
mg
Fiber:
1
g
Sugar:
4
g
Vitamin A:
710
IU
Calcium:
92
mg
Iron:
1
mg
FAQ How to make French Toast
Below you can find the most frequently asked questions:
What is French Toast?
A breakfast of sliced bread that is soaked in a combination of eggs, milk, cinnamon, sugar and vanilla extract.
Which ingredients do I need for this recipe?
You need the following ingredients: bread, eggs, butter, salt, cinnamon powder, vanilla extract and milk.
How long does it take to make the toast?
It will between the 5 and 10 minutes. Depending on how hot your baking pan is.