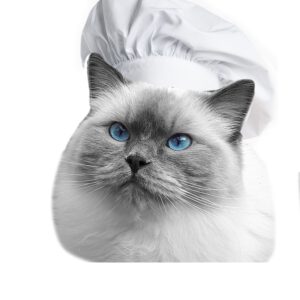 Hello everyone. Welcome to the official Nolynskitchen website. You came to this page because you want to know more about who is behind this "brand". I'm going to tell you that now 🙂
I am Nolynskitchen. A Home Cook who loves good food. I'm a huge fan of Nolyn, my moms ragdoll cat. The inspiration for the name of the website, the YouTube channel and the logo!
My passion for food was created by my mother and grandfather. My grandfather was a butcher and had his own butcher shop. You will never forget those memories, when my grandfather made his famous steak. After all these years I still haven't managed to get the same result! It was always great to see him sharpen his knife and then cut the meat into beautiful slices.
My mother, a home cook herself, doesn't get it from a stranger. A real butcher's daughter who was always trying out different things with food. Sometimes it works and sometimes the result was slightly less. If you don't try, you don't know the outcome! My mom always makes good food and she still loves it!
The recipes you can find on my website are usually easy to make. Now and then you have to take your time for food! The moment you follow the recipes you should succeed. If a recipe fails, check where it went wrong. Everyone makes somethings a mistake, including me! That will only make you better.
I set up my website and YouTube channel special for you, to help you further with amazing recipes. I would really appreciate it if you become a subscriber to my YouTube channel! This way you stay informed and you can also share the videos more easily with friends and family! Sounds good right?
Enjoy the content on this website and the YouTube Videos!
Regards,
Nolynskitchen